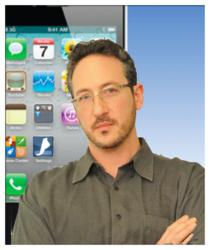 The iPhone platform is just a natural and extremely intuitive way for us to educate the public about what we do as podiatrists.
New York, NY (PRWEB) April 26, 2011
Podiatric Medicine, bunions, hammer toes, corns, Diabetic foot care…there is an app for that. Pocket Professions Inc., founded by Dr. Alec Hochstein, has created and released the newest medical app in the App store, and it is sure to please many.
iPodiatrist created from the ground up with the patient, student, and seasoned practioner in mind has been released to the App store. It has something for everyone. For patients it is a great resource for definitions as well as more detailed information on current treatment methodology and what to expect in going to a podiatrists office. For the student it gives a look at what podiatrists are treating as well as some fun information's with regard to feet. In addition the iPodiatrist™ creates a portal for both patients and students to reach out and interact via email and social media tools with the podiatric community.
Dr. Hochstein, a board certified podiatrist in private practice, and the creative force behind iPodiatrist™, envisioned giving patients, students and care givers more transparency with respect to his profession, while encouraging those in need to seek out practitioners who can help them with there foot and ankle complaints, and concerns. "The iOS platform is just a natural and extremely intuitive way for us to educate the public about what we as podiatric professionals do," says Dr. Hochstein.
"With iPodiatrist™, we have been able to bring the profession to a patient's pocket. A patient can now look up on their iPhone, iPad or iPod a concern, and become a more educated patient, even before setting "foot" in the Podiatrists office. This accomplishes many things. Its brings to us a much more involved patient, which translates to better outcomes as shown by many studies. In addition it helps to quash fears that some patients have by laying out many treatment options that patients may not have realized were available, this will prevent patients from self -treating and avoiding many unnecessary self inflicted injuries. Students will find it very educational, as it includes more that fifty of podiatric medicines most common diagnoses and complaints as well as a foot anatomy atlas and beautifully produced videos, that speak in laymans terms about those conditions. For the seasoned podiatric practitioner it provides a modern, comprehensive and friendly way to educate their patients and to keep up with the latest news stories, podcasts, and blog releases.
"Pocket Professions, Inc. is offering the app for free in it's initial release, in order to give practitioners and patients alike access to this novel tool. We encourage doctors from all around the world to add the download link to their websites and blogs. This will give your website great additional content, while educating your patients"
Future upgrades and releases are already in the works. "We were excited to release this to the profession, and we hope that the profession and those served by it will be integral in the evolution of iPodiatrist™ through their feedback," says Dr. Hochstein.
###