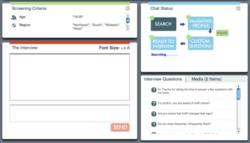 Denver, CO (PRWEB) April 08, 2011
GutCheck has been named as an Edison Award Silver winner by the internationally-known 2011 Edison Best New Product Awards™. The award recognized GutCheck's innovations in putting sophisticated qualitative research tools within reach of companies of all sizes, and making them easy to use as well.
GutCheck lets businesses test their messaging, product or service ideas and strategies with their exact target customers. For $40 per interview, businesses can be connected with their target customer to get answers to the kinds of questions that surveys and quantitative methods can't reveal: not just if they like or dislike an approach, but why, how it makes them feel, what might be better – the gold mines of consumer insight previously reserved for only the largest brands.
The distinguished Edison Awards symbolize the persistence and excellence personified by Thomas Alva Edison, inspiring America's drive to remain in the forefront of innovation, creativity and ingenuity in the global economy.
"More than any year, this year's award winners demonstrate the enormous value of teamwork, experimentation, consumer focus and market awareness," said Tom Stat, Executive Director, Edison Universe. "I'm especially pleased that so many of our 2011 award winners are innovating around innovation itself by focusing on education, market collaboration and open innovation. These honored award winners show that by stimulating our natural curiosity, fueling our drive for discovery and sparking our need to innovate, no challenge is too big and opportunities abound. Edison himself would be very, very proud."
"The team at GutCheck continues to invest a lot to develop this new approach to market research and it is an honor to have been selected," said Matt Warta, Co-Founder and CEO.
The ballot of nominees for the Edison Best New Product Awards™ was judged by roughly 2,000 members of the not-for-profit Marketing Executives Networking Group (MENG), an organization comprising America's top marketing professionals and academics. In a comprehensive peer-review process, the nominees are judged on Marketplace Innovation, Marketplace Success, Technological Innovation, Market Structure Innovation, Societal Impact, and Design Innovation.
Winners of the Gold, Silver and Bronze awards were announced April 5, 2011 at the historic Capitale ballroom in New York. In addition to announcing this year's Best New Product Award recipients, the evening featured the presentation of the prestigious Edison Achievement Award to Alan Mulally, CEO of Ford Motor Company, and to John Hendricks, Founder and Chairman of Discovery Communications, both of whom have made a significant and lasting contribution to innovation throughout their careers. The distinguished guests included Mike Rowe, Host of "Dirty Jobs", and Danny Forster, Host of the Science Channel series "Build It Bigger".
The Edison Awards Steering Committee is comprised of senior executives with diverse marketing, scientific, and business backgrounds who monitor the development and successful launch of innovative products each year. The Committee is responsible for bestowing the annual Edison Achievement Awards and serves as a guidepost in developing the list of nominees that is presented to the Edison Best New Product Award judges.
The 2011 Edison Awards are sponsored by The Nielsen Company, Discovery Channel, Science Channel, Spencer Trask and USA Today. The Edison Awards are granted under the aegis of the Thomas A. Edison Papers at Rutgers University, a globally recognized research network dedicated to the study of innovation and its application in the 21st Century. For more information about the Edison Award finalists, please visit http://www.edisonawards.com
GutCheck was born out of the idea that everyone can use a little consumer feedback now and again. Founded in 2009 with a goal to provide qualitative research to anyone, not just those with big budgets, resources and extended time lines, GutCheck is a pioneering company in do-it-yourself, online qualitative research providing a quick and affordable solution that delivers quality insights direct from identified target market consumers to answer questions related to advertising creative, marketing messaging, product development and customer segmentation. The company has received $2M in a Series A round of funding, has 5 employees in their Denver, Colorado location and was voted the People's Choice Award Winner at DEMO Spring 2011. For press inquiries, please visit:http://www.gutcheckit.com/press
# # #