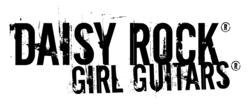 We will help you get your music heard through DRR and hopefully, every girl will achieve all of their musical dreams . . . We want the world to change for female musicians everywhere.

- Tish Ciravolo, Daisy Rock President and Founder
Los Angeles, CA (PRWEB) April 11, 2011
Daisy Rock Girl Guitars, the original girl-guitar company, has partnered with the digital music distributor TuneCore to create Daisy Rock Records, a new service designed to provide a fast and easy way for songwriters to upload and distribute their recordings through online stores such as iTunes.
TuneCore singlehandedly changed the music industry allowing all artists to have a career without being signed by a label, by providing access to distribution into iTunes and more for a simple flat fee. Artists keep all their rights and receive 100% of the revenue from the sale of their music. Daisy Rock Musicians can join TuneCore Artists Joan Jett, Jay-Z, Aretha Franklin Drake, David Byrne, Nine Inch Nails, Ziggy Marley, and hundreds of thousands of others in getting their music distributed, heard, bought, and shared around the world.
Anyone who signs up for Daisy Rock Records will receive an exclusive 20% discount to on their TuneCore flat fee and will get their music available on digital music stores iTunes, AmazonMP3, Zune Marketplace, Rhapsody, eMusic, and more—all in as little as 24 hours.
Daisy Rock endorsed artist Nikki O'Neill (The Nikki O'Neill Band) currently uses Daisy Rock Records to share her band's music. "We distributed our latest single, "Push Me Down," through Daisy Rock Records," said O'Neill. "The song was live on iTunes within 8 hours and we were able to start promoting it right away!"
Once they've uploaded their music, the artists are given the opportunity to be promoted to Daisy Rock's immense community of girl rockers, music fans, and industry contacts through web, e-mail, and social media marketing. In addition, TuneCore provides the artists with their own streaming media player and iTunes Ping account to further help them share their music.
Most importantly, every Daisy Rock Records artist still keeps all the rights to their music, as well as 100% of the royalties generated from online sales through TuneCore.
"For the last 11 years, we've been putting guitars into females' hands so they can make music they love," said Tish Ciravolo, Daisy Rock Founder and President. "The one comment that we heard constantly was 'how can I get my music heard,' which ultimately means distributed and marketed. So, DRR is our answer to this problem for the girls out there rocking out. We will help you get your music heard through DRR and hopefully, every girl will achieve all of their musical dreams . . . We want the world to change for female musicians everywhere. We hope this is the tipping point to make that happen!"
Said TuneCore Founder Jeff Price, "I fell in love with Daisy Rock the moment I saw their guitars. Stylish, edgy, unique and used to play some of the best music in the world. It's privilege to work with them to empower more woman to get heard."
For more information on Daisy Rock Records or to sign up today, visit daisyrock.com/daisyrockrecords.
About Daisy Rock Girl Guitars
Daisy Rock is the original girl-guitar company dedicated to successfully supplying and marketing pro-quality guitars for females. The company is led by its President, Tish Ciravolo, and co-owned and distributed by Alfred Publishing. Daisy Rock's ongoing mission is to provide females of all ages with whatever it takes to learn to play guitar and enjoy music. Daisy Rock has established and continues to strengthen its reputation as "THE female guitar company."
Daisy Rock, its talented management team, and its products have been continuously featured in worldwide mainstream media, including People, Time, Newsweek, CNN, ABC, NBC, FOX, VH1, the Premier Radio Network, BBC Radio, the Associated Press, etc. The company was founded solely by Tish Ciravolo in October 2000.
# # #