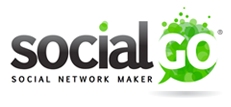 (Vocus/PRWEB) April 12, 2011
SocialGO is releasing the second version of their incredibly popular social networking platform. The team at SocialGO have been working diligently to improve their already impressive social networking software to fit the needs of their customers and to advance their customers' ability to build the next generation of social website.
The term "social website" is used by SocialGO to explain their Version 2 platform, suitably titled V2. They are moving away from the term social networking website to simply social website because they believe it signifies the growth and maturity of the social web with the majority of websites now being social. A social website should inhabit the next movement in social network development, allowing the user to increase their website's potential and further themselves in the growing market of social media.
One of the areas that SocialGO has improved is the container of the site. The container includes the look and feel of the website as well as the privacy settings, domain name and navigation. The V2 container is touted as being extremely advanced and offering unparalleled flexibility.
Another advancement that SocialGO has made is to make adding content easier for the user to post online. Text, photos and video, under V2, is made to be as simple and flexible as possible for anyone to create a website, add content to it and distribute that content widely to Facebook and Twitter.
To help make the sites look fantastic, SocialGO has teamed up with WooThemes, Wordpress's largest and most popular theme developer. Some of WooThemes's most popular themes are going to be available on the SocialGO V2 platform, starting with the theme Canvas, in the beta program.
The highly anticipated version 2 platform from SocialGO has been reported on multiple social network blogs as one of the most anxiously awaited releases of 2011. With version one creating waves in the social networking universe, the second version, with the focus on making a "social website," should prove just as exciting.
###