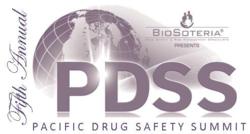 BioSoteria is looking for individuals who really understand the challenging issues at play in today's drug safety practice, and we're excited to host yet another great event this year.
Emeryville, CA (Vocus/PRWEB) April 12, 2011
BioSoteria, Inc., Drug Safety and Risk Management Specialists, and organizers of the Annual Pacific Drug Safety Summit (PDSS), announced today that it has opened its speaker abstract submission website to proposals from Safety Professionals who wish to present at PDSS. The Pacific Drug Safety Summit, runs from September 15-16, 2011 at the Hyatt Regency San Francisco Airport, Burlingame, CA. The podium presentations will take place during the main conference day on September 16, 2011. Speakers are encouraged to submit an abstract based on their work in the area of pharmacovigilance, risk management and/or pharmacoepidemiology.
PDSS is one of the leading and fastest growing annual drug safety and pharmacovigilance conferences in the the Western United States, and held in the San Francisco Bay Area, home to a thriving pharmaceutical and biotechnology industry with the largest cluster of life sciences companies in the United States.
TOPICS TO BE ADDRESSED AT PDSS MAY INCLUDE:

Good pharmacovigilance practice case studies
RMP/REMS assessments and effective risk minimization tools
Solutions for streamlining Safety Operations
New or upcoming changes in regulations and guidances in pharmacovigilance, risk
management, or pharmacoepidemiology

Pharmacovigilance compliance and inspections
Good pharmacoepidemiology practice case studies
Signal detection methods and practices and practical approaches
Other topics relevant to a pharmacovigilance and drug safety audience
PAST SPEAKERS:

Mary Mease, RPH, MPH, Senior Director Medical Affairs, Epidemiology & Outcomes Research, Quintiles
Valerie Simmons, MD BS, FFPM, Lilly QPPV Executive, Global Patient Safety, Eli Lilly & Co Ltd, UK
Catherine Hardalo, MD, VP, Clinical Development, Cadence Pharmaceuticals
Tobias Peschel, MD, PhD, MBA, VP, Drug Safety & Public Health, Gilead Sciences
Bethany Van Veen, Director, Safety Operations Drug Safety Risk Management, InterMune, Inc.
Eleanor Segal, MD, VP, Medical Safety Officer, Actelion Pharmaceuticals Ltd.
Gregory M. Bogdan, PhD, Research Director—RADARS®, Rocky Mountain Poison & Drug Center—Denver Health
Julie Acquafredda, MBA, Senior Project Manager PV, Takeda Global R&D
Paul Coplan, Sc.D, MBA, Senior Director, Risk Management, Global Safety Surveillance and Epidemiology Wyeth Pharmaceuticals
Robin Geller, PhD; Director of Risk Management, Global Pharmacovigilance, Baxter Healthcare Corporation
Cathy Sigler, DVM, PhD; Sr. Director, Safety, Epidemiology, Registries & Risk Management, United Biosource Corporation
Hugh Tilson MD, DrPH, Adjunct Professor of Public Health Leadership, Epidemiology, and Health Policy, UNC Gillings School of Global Public Health
"The speakers at PDSS 2010 were internationally renowned and well received by registrants of the conference. Conference attendees loved having the opportunity to interact with drug safety industry leaders in an open, collaborative setting. For PDSS 2011, BioSoteria is looking for individuals who really understand the challenging issues at play in today's drug safety practice, and we're excited to host yet another great event this year." – Sally Van Doren, PharmD, President and Chief Executive Officer, BioSoteria, Inc.
All interested speakers may submit an abstract for consideration at
http://biosoteria.com/training-and-education/pacific-drug-safety-summit/speaker-proposal-form.html
About BioSoteria
Founded in 2007 with a strong vision of a progressive drug safety and pharmacovigilance consulting services and education, BioSoteria serves the outsourcing needs of the pharmaceutical industry. From strategic risk management consulting services and full-service drug safety operational capabilities to world-class award winning pharmacovigilance training and education programs, BioSoteria provides unmatched experience, expertise, and leadership to support your company's efforts to maximize your product's benefit-risk profile. For more information and to learn more about BioSoteria's drug safety services and training programs go to http://www.biosoteria.com.
###