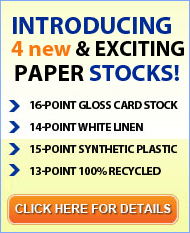 "At 4OVER4.COM we listen to our customers, and we put them first. We introduced 4 new paper stocks recently to satisfy customer requests for particular grades of high quality papers for their printing jobs"
Astoria, NY (Vocus/PRWEB) April 08, 2011
Online Printing Authority 4OVER4.COM has added 4 new advanced paper stocks to its paper printing options. The new paper stocks, which are 16pt Gloss Cardstock, 14pt White Linen, 15pt Synthetic Plastic Paper and 100% recycled 13pt Uncoated Cardstock, were selected for their high demand, which is due to their superior printing properties. 4OVER4.COM will use the papers in the production of higher quality, yet affordable print products including business cards, postcards, greeting cards, rackcards, hangtags and bookmarks, among others, and they will be available in quantities ranging from 50 to 10,000 at new slightly adjusted prices.
4OVER4.COM is a pioneer online printing company which provides free online proofs, free online job status updates and free expert file review without any obligation to purchase. Their high quality print products include the full spectrum of custom printing products including business cards, brochure printing, poster printing, custom labels, canvas prints, vinyl banners, booklet printing, postcard printing and much more.
The NY printing company, which is known for its fast turnaround and high-quality low cost prints, added the 4 new paper stocks to its inventory to cater to the large demand for higher quality paper options for use in key consumables including business cards, while others will facilitate production in niche areas including maps printing and menu printing
The new 16pt Gloss Cardstock papers are thicker, and of a higher quality than the previous 14pt Gloss Cardstock used for business cards, greeting cards and postcard printing. The new 16pt papers will be used to produce stronger, more durable cards which will not only last longer physically, but also create a longer-lasting print impression. By lasting longer, cards produced with the new 16pt gloss cardstock papers will provide more value for money.
14pt White Linen is a beautiful stock with a distinctive, refined look and feel. The paper is characterized by a subtle embossed finish reminiscent of finely woven cloth, and will be used in specialty products including exclusive business cards and other luxury printing. In addition to being FSC Certified, the paper is also Green Seal Certified and 30% PCW.
The 15pt Synthetic Plastic Paper has been dubbed "Simply Amazing" by the company for its multiple high-demand properties. The paper is rigid, waterproof, tear-resistant, weatherproof and recyclable - the perfect material for 21st century businesses, which need a solid print medium that is not only durable, but can be adapted for a wide variety of promotional uses, and deployed in virtually any operating environment. With its unique and highly-desirable property set, the new 15pt synthetic plastic paper is certainly one of 4OVER4.COM's high-value treasures, and it is also remarkable that the company is keeping the product affordable by offering it at a slightly adjusted low price.
The synthetic plastic papers can be used for almost any type of regular printing work and will make some new printing areas possible. With the new synthetic papers, 4OVER4.COM will print maps, menus and other long-life products, as well as fundamental uses such as card printing 4OVER4.COM is also known for its green printing policy. As a green printing company, 4OVER4.COM uses only eco-friendly printing inks and processes and is a Forest Stewardship Certified printer. The new 13pt Uncoated Cardstock from 4OVER4.COM, the perfect eco-friendly print material, is 100% PCW Recycled, FSC Certified PCF (Process Chlorine Free). The new paper stock is ideal for businesses whose printing policy dictates the use of eco-friendly print materials, and the product is also of a very high quality, producing excellent print impressions that last long.
In all, the new paper stocks from 4OVER4.COM will add value to 4OVER4.COM customers, who now have more high quality options to choose from for their printing jobs and projects. With the new additions from 4OVER4.COM, customers will be able to enjoy new print products, as well as access supply for the increasing demand for these higher quality papers – and best of all, 4OVER4.COM is offering the new products at a highly affordable slightly adjusted rate, so customers will not need to pay a high price for these products.
4OVER4.COM has restated its commitment towards ensuring that customer demands are met in a timely and cost-effective fashion. Quoting a company principal when asked about the new paper stocks;
"At 4OVER4.COM we listen to our customers, and we put them first. We introduced 4 new paper stocks recently to satisfy customer requests for particular grades of high quality papers for their printing jobs, and we will be serving the new products with the same 4OVER4.COM low price, high-value guarantee. With 4OVER4.COM, customers will have access to a low-cost and reliable supply for print products based on these high-grade papers. We are happy to add value for our customers in this way, and we want them to know that 4OVER4.COM will always remain responsive to their needs."
Print products using these new paper stocks will be available in quantities ranging from 50 to 10,000 and will be priced at slightly adjusted rates to keep them affordable. For more information on these new exciting paper stocks please visit 4OVER4.COM.
About 4OVER4.COM
Online printing company 4OVER4.COM, an NYC printing firm, is a green printing company that serves tens of thousands of clients nationally and whose printing New York facility began operations in 1999. 4OVER4.COM provides unmatched technical and customer support and instant online pricing and ordering for full color printing services. Since 1999, 4OVER4.COM has offered free expert file review and free online proofs without any obligation to purchase. As a green printing company, we are strongly oriented towards sustainable environmental renewal, and we are happy to lead the way with environmentally and socially responsible printing practices and projects among national as well as New York Printers.
# # #