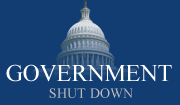 Do you have to file taxes if the government shuts down? What will happen to your refund? Get answers to these questions and more.
Washinton, DC (PRWEB) April 08, 2011
Lawmakers are back on the hill today and due to their inability to come to an agreement our government agencies will come to a standstill over the weekend. The question is what agencies are likely to close down Parks & Recreations, the IRS, Social Security, Medicare, ect. No one knows for sure. http://governmentshutsdown.com has been launched to give each person additional insight as well as a voice to be heard. Available is up to the minute news streams, breaking video release, discussion area to get your toughest questions answered, and a place where you can share your story. Make your congressmen hear you and get involved in the conversation.
Take this opportunity to speak out and stay informed.
http://governmentshutsdown.com
Things you should know:
If I'm a federal worker will I still get paid? Will Post Offices be open? Will Museums be open? Will National Parks be open? Will TSA be operating? Will my home loan close? Will I receive my social security? When will I get my tax refund and should I file?
If you don't know the answers find the place that can give them to you...
http://governmentshutsdown.com
###