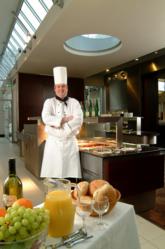 "They're easy to use, they clean themselves, they don't need a water filter and they cook to perfection.
(Vocus/PRWEB) 11 April 2011
Murray Edwards College, University of Cambridge, has been using a Rational SelfCooking Center over the past year for its banqueting, for both conferences and collegiate dining, catering for up to 50 diners. Now the College is gearing up to expand its banqueting to cater for up to 270 covers – and it has invested in two more SelfCooking Centers.
"Everything used to be silver service, but the Rational combi steamers have allowed us to change that – they've given us big cost savings, great consistency, better presentation and they've improved food quality," says head chef William Proudfoot.
Banqueting at the College now combines cook chill, the vegetables being cooked and plated in advance, and cook serve, with the meat or fish cooked at the time of service. The Rationals are used for both cooking and regen processes.
For the College, the main problems with silver service were the cost, the waste and the inconsistency of presentation. "With the Rationals, the 200th diner gets exactly the same quality plate as the first one, and they're all piping hot," says William Proudfoot. "Plus, the chefs see each plate as it leaves the pass – that's a huge bonus. With silver service, presentation and portion control were very inconsistent and we had to factor that in. For example, for 200 diners we used to have to allow three or four boxes of broccoli. Now we only use two. "
He adds that the savings on food costs have been "huge, especially on vegetables." In addition, cooking in the Rationals reduces shrinkage of meats significantly.
"Everything is done in the Rationals," he says. "We use them to roast, steam, pan fry, griddle – you name it." One of the College's signature dishes is herb crusted rack of lamb. "Previously we had to pan fry the rack, then add the crust. Our contact at Rational, Rodney Lankester, put together a programme for us so that the Rationals now do everything, start to finish, and the lamb comes out excellently – pink, tender and succulent with a really crunchy crust."
William Proudfoot is also a fan of the Rational accessories. "For example, with the Griddle Grid pans, we can do char grilled steaks for 200 people in one SelfCooking Center, and every single one comes out perfectly."
But it's the Rational ovens themselves that have really impressed. "They're easy to use, they clean themselves, they don't need a water filter and they cook to perfection. Plus, our quality control is so much better.
"They are awesome pieces of kit."
For information and brochures, or to arrange to come to a free SelfCooking Center® 'TeamCooking Live' seminar, contact your dealer, freephone Rational UK on 0800 389 2944 or call +44 800 389 2944. For product information and contact details see http://www.rational-UK.com. For information about Club Rational, including recipes and combi cooking tips, visit http://www.club-rational.com/gb
For more news about Rational visit the press office at http://www.publicityworks.biz
Jenny Hegarty at Rational UK: 01582 480388
More information on Rational UK from http://www.rational-UK.com and Club Rational
Follow Rational on Facebook and Twitter
'SelfCooking Center' and 'TeamCooking Live' are registered trademarks of Rational.
Murray Edwards College is part of Cambridge University and is an all-girls college. The Rational units there are all SelfCooking Center 20 grid models (SCC201). The College also uses Rational's Finishing system for banqueting, which features mobile plate racks (max capacity 120 plates), which can be rolled into the ovens direct from the blast chiller or refrigerator, and Thermocovers, which allow food to stand for up to 20 minutes before serving.
Murray Edwards College: http://www.murrayedwards.cam.ac.uk/
Rational SelfCooking Center: http://www.rational-UK.com
Rational Finishing system: http://www.rational-online.com/GB_en/products/accessories/finishing-system/
# # #