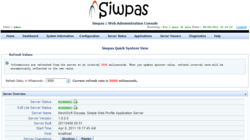 No need to wait so long to start a server!
Ankara, Turkey (PRWEB) April 19, 2011
MechSoft™ Mechanical and Software Solutions today announced the general availability of Siwpas™, lightweight Java based application server platform. Siwpas(pronounced as Simple Web Profile Application Server) is a fast and lightweight Java application server platform for running web applications that are implemented using the Java™ Platform, Enterprise Edition 6 (Java EE 6) Web Profile Technologies. Siwpas is powered by "The Apache Software Foundation™" Java EE 6 related projects for satisfying the Java EE Web Profile required components.
Why Siwpas?
Lightweight: Siwpas is specifically implemented for running web profile based web applications. It does not contain unnecessary technology complexity. Siwpas is light and will always be light.
Fast: Siwpas is started in seconds in a commonly used production servers. Siwpas also relieves developers from long testing cycles while developing their next enterprise web applications.
Easy to Use: If you know the Apache Tomcat, you know the Siwpas. Deploying and running web applications is the same as Tomcat , but you get web profile technologies that are not contained in the Apache Tomcat.
Open Source: Siwpas Community Edition is available under a friendly open source license.
Siwpas is powered by "The Apache Software Foundation's" Java EE projects.
Cool Administration Console: It is easy to manage the Siwpas via Java Server Faces based administration console. Easily view and manage the internals of the Siwpas.
7x24 Support: Siwpas Enterprise Edition is supported by MechSoft according to the different subscription levels.
No Upfront License Cost: Customers do not have to pay upfront license costs for running Siwpas. Only support subscriptions are needed to use Siwpas Enterprise Edition. Siwpas Community Edition is free of charge but it is not professionally supported by MechSoft Team.
Competitive Pricing: Siwpas Enterprise Edition subscription price is very competitive when it is compared with the other server alternatives.
Gurkan Erdogdu, Chief Technology Officer of Mechsoft said that "Nowadays, a huge number of application developers and enterprise grade companies would like to use lightweight application servers for deploying and running their web applications. They do not want to use heavy Java EE Servers that are hard to use and manage. They would like to use lightweight, cloud environment friendly application servers. Nonetheless, they also need more technology stack for implementing their web based applications, such as "Java Persistence, Java Server Faces, Java Transactions, Enterprise Java Beans and etc. Siwpas Enterprise Edition is the perfect fit for providing such a lightweight application server platform with all the features needed."
Siwpas is now generally available. There are two editions of Siwpas, Siwpas Community Edition (CE) and Siwpas Enterprise Edition (EE). Siwpas CE is free of charge but it is not supported professionally by MechSoft Team. On the other hand, Siwpas EE has undergone complex QA testing, contains cool administration console, and the most importantly, is supported professionally by MechSoft Team according to the subscription levels.
About MechSoft Mechanical and Software Solutions
MechSoft Mechanical and Software Solutions is located in Ankara, capital of Turkey. It has two different branches, Mechanical Solutions Group and Software Solutions Group.
Mechanical Solutions Group is the main distributor of well-known CAD/CAM products in Turkey and also develops mechanical engineering projects. Software Solutions Group mission is to provide an open source, high quality software products that are backed by his technical experts and authorized partners. He is mainly specialized on Java Enterprise Edition and middleware technologies. Siwpas is one of the open source flagship product of Software Solutions Group. Software Group provides comprehensive services including Professional Support, Training, and Consulting around Siwpas Enterprise Edition.
###