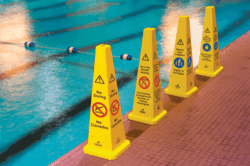 "A New Era in Pool Safety Signage"
Milford, PA (Vocus/PRWEB) April 10, 2011
Geoffrey Peckham, President, Clarion Safety Systems, and Tom Griffiths, Founder, Aquatic Safety Research Group, will present "A New Era in Pool Safety Signage" at the 2011 National Drowning Prevention Symposium, Antlers Hilton, Colorado Springs, CO. The presentation shares a new pool safety signage system developed by Clarion Safety Systems that uses symbols, color, language and repetition to effectively communicate the four most important pool safety messages.
What is being hailed as the most innovative safety communication solution for the aquatic watersports industry since safety signage practices began in the 1940s, Peckham will reveal his insights in creating the messages that effectively warn those who participate in aquatic sports about the most important hazards associated with pools, water parks and beaches. Peckham developed the new pool safety sign solution in collaboration with Tom Griffiths, whose expertise in the field of aquatic safety has made him one of the leading expert witnesses in litigation for pool-related accidents around the world. The system's signs use a balance of text, symbols, placement and repetition to effectively address core hazard messages.
Says Peckham, "The facts speak for themselves. First, the vast majority of hotel, motel, condominium and community pools are unsupervised around the world. Second, the vast majority of pool safety signs in current use do not comply with the latest warnings technology developed by human factors studies, court decisions and the standards – all of which combine to define the legal definition for an "adequate warning." Third, avoidable tragic accidents continue to occur in these pools and these accidents dramatically affect people's lives and initiate liability claims against pool owners. This new system of signs is the solution to the problem – it succeeds where current signage fails."
Peckham designed this new signage system based on his knowledge from developing both the ANSI standard for environmental and facility safety signs and the new international ISO standards for water sports safety signs. The new Clarion sign system blends the U.S. and global standards' requirements to create a visual safety communication system that meets the worldwide needs of the aquatic industry.
Peckham and Griffiths analyzed data related to causes of injury and death and amounts of award settlements to see where warning and hazard messages could affect change in the population. They found that most pool safety messages are buried in text-only "pool rule" signs, hiding the life-threatening behavior warnings from immediate recognition by guests.
Additionally, from his extensive litigation witness experience, Griffiths recognized that some of the behaviors that caused injury and death were never articulated in any way on current signage, leaving the facility exposed to "failure to warn" litigation.
Says Peckham, "The Clarion pool safety sign solution is meeting with unprecedented positive response from franchise and facility owners, as well as the large insurance providers who underwrite these properties. In short, it is quickly becoming a much needed enhancement that is aimed at helping protect people around the world."
While many pool-related accidents occur at home pools, the accidents occurring in public or hospitality pools settle for millions of dollars in damages. These accidents might have been avoided with more compelling safety signage. The new signage also aims to reduce overall risk and exposure to liability by proving the facility's diligence in providing safety communication.
Over a year in development, the Clarion pool safety sign system is undergoing rigorous testing to validate that the general public comprehends their messages. In production, the signage has already been contracted and installed in numerous pool locations and in a major new water park.
About Aquatic Safety Research Group
Founded by Dr. Tom Griffiths of Penn State University, Aquatic Safety Research Group provides innovative water safety and risk management programs and services to a wide range of clients throughout the United States and internationally. Dr. Tom Griffiths brings decades of pool and beach experience to each training program, and his experiences as an expert witnesses bring reality to his unique approach to aquatic risk management. For more information visit: http://www.aquaticsafetygroup.com.
About Clarion Safety
For over 20 years, Clarion Safety Systems has been the premier company in its field, supplying over 180 industries with the product safety labels and facility safety signs needed to reduce risk and protect people. Clarion's new ANSI/ISO compliant pool safety sign system redefines visual safety communication for the aquatic sports industry worldwide. For more information visit: http://www.clarionwatersafety.com.
###