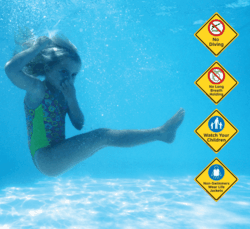 Milford, PA (Vocus/PRWEB) April 10, 2011
In an increasingly litigious society, facilities with swimming pools should incorporate the latest advancements in water safety signage. Largely ignored for decades, water safety signage has, at best, conformed to 1940's guidelines for workplace safety, and has, at worst, conformed with no recognized international or national safety standards at all. By adopting rigorous conformity in visual warnings, safety conscious corporations and organizations can make a difference to those who might otherwise have drowned or become severely injured – as well as everyone else affected when such tragedies occur. A new era in pool safety is underway with the debut this year of a unique signage system. Developed through the combined efforts of leading water safety experts, human factors engineers and safety sign design specialists, the new signage system employs a distinctive methodology both in its design concepts and its installation strategy. Those who use pools will have new awareness to real aquatic safety hazards, and pool owners and managers will have demonstrated the due diligence necessary to protect their facility from exposure and failure to warn.
Safety signage currently posted in aquatics facilities doesn't use up-to-date visual communications aimed at providing universally understood warnings. Instead, typical pool facilities post:

A large, text-only list of safety rules
A "No Lifeguard on Duty – Swim at Your Own Risk" text-only sign
A couple of "No Diving" signs
The issues are that people don't bother to read the list of rules and the signs blend into the background of typical décor. Human factors experts indicate that in order for a safety sign to be effective, it must be noticed. An unnoticed sign is worthless.
Second, the sign needs to concisely convey its message. A "List of rules" sign actually diminishes communication with the sheer volume of information in text-only format.
Finally, sign design experts say people are more apt to obey safety signs when they fully understand the hazard, its consequences, and how to avoid the hazard. These are the essential elements of a safety sign's message as defined by the 2011 ANSI Z535.2 Environmental and Facility Safety Sign Standard and by U.S. courts as indicated by decisions regarding what constitutes an "adequate" warning.
The new pool safety sign system developed by Clarion Safety Systems of Milford, PA, employs three key design principles that set it apart from current pool signage.
First, it was designed from the ground up to clearly communicate the major safety messages that need to be conveyed in pool facilities: no diving, no prolonged breathholding, watch your children, and non-swimmers wear life jackets. Adequately conveying these messages is absolutely essential in today's aquatic environment. All other statements appearing on pool rule signs are superfluous in comparison to these specific hazard description/hazard avoidance messages. The new signage uses a combination of text and symbols to communicate messages beyond language barriers. Graphical symbols are the global state-of-the-art method for visually communicating safety because they convey messages at a glance, providing greater immediacy than text-based signs.
Second, the new system has undergone extensive comprehension testing to ensure its messages are understood. Viewer comprehension testing not only aided in the design of the signs, but establishes an important future baseline for providing key legal documentation for pool owners who implement the new system. Should an accident occur and a lawsuit be filed, the new system provides documentation demonstrating that adequate warnings were posted.
The new water safety sign solution reiterates essential warnings by leveraging strategic placement so viewers are fully educated about primary swimming hazards.
Now being installed in a number of locations, most prominently in the Evergreen Water Park in McMinnville, OR, the new system of signs is certain to gain wide acceptance wherever pool safety has been made a top priority.
About Aquatic Safety Research Group
Founded by Dr. Tom Griffiths of Penn State University, Aquatic Safety Research Group provides innovative water safety and risk management programs and services to a wide range of clients throughout the United States and internationally. Dr. Tom Griffiths brings decades of pool and beach experience to each training programs, but his experiences as an expert witnesses bring reality to his unique approach to aquatic risk management. For more information visit: http://www.aquaticsafetygroup.com
About Clarion Safety
For over 20 years, Clarion Safety Systems has been the premier company in its field, supplying over 180 industries with the product safety labels and facility safety signs needed to reduce risk and protect people. Clarion's new ANSI/ISO compliant pool safety sign system redefines visual safety communication for the aquatic sports industry worldwide. For more information visit: http://www.clarionwatersafety.com
###