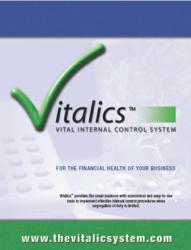 Loveland, CO (PRWEB) April 10, 2011
Each year small businesses, which employ up to 50 percent of the American workforce, lose roughly $630 billion dollars to fraud. In an effort to investigate the fraud, the small businesses can expect to pay up to $15 thousand dollars before lawyers will be involved. This amount has the potential to undermine any efforts to regain financial stability.
However, the small businesses now have a new tool to fight fraud.
The Vital Internal Control System, or Vitalics, is both a control system and a fraud education program created to help small business owners prevent employee theft, which has the average loss of $155 thousand per fraud occurrence.
This type of fraud is not a rare problem as the Association of Certified Fraud Examiners consistently ranks small businesses as having the highest fraud frequency in their report to the nation that comes out every two years.
Vitalics, pioneered by Julie Aydlott, was written specifically for the small business. The system includes a two-hour DVD on business fraud with an accompanying workbook and a CD containing over 100 customizable forms and checklists including an internal control template and a risk assessment.
These forms will help the owners with trust and accountability, an ability to easily review financial records, back up documents, and any irregularities that occur. There is also an approval system, which provides the owners with the ability to know what is occurring within their small business.
"I came up with the name to brand something that would be catchy and a small business could remember. It is a Vital Internal Control System. It sounds a bit like something medical, however, in a sense it is. Our tag line is "For the Financial Health of your Business," Aydlott said about the name of her product.
The system was built to allow cooperation between the owner and their employees without fear of bringing accusations forward or being approached with uncomfortable questions.
"Vitalics is going to become the new standard in small business bookkeeping," said Aydlott, an expert who has been interviewed in several business media outlets including Entrepreneur Magazine and Newsday.
The system was created with affordability in mind. The hard copy book, DVD, and CD costs $269, while the E-book version will only cost business owners $249. This is a difference of hundreds of dollars when compared to other internal control systems on the market today.
"It is easier and obviously much more affordable to prevent fraud than to detect it," Aydlott said.
Aydlott, a Certified Fraud Examiner in Forensic Accounting, specializes in small business. She created the system because she found the fraud protection for small businesses to be lacking, with an overemphasis on larger corporations, publicly traded companies, and governmental agencies.
"This is basically my competition which is very small because I am one of the few that created an internal control system specifically for the small business and one of the only one that I know of that created a solution for the lack of segregation of duty," said Aydlott.
The segregation of duty, a recommendation that comes from certified public accountants and lawyers, Aydlott mentioned concerns of the ability for small companies to have a separate bookkeeper, assistant controller, and chief financial officer. These three positions may be more than the small businesses could afford.
Vitalics first started as The Small Business Fraud Prevention Toolkit, a fraud prevention package written by Aydlott, who also owns and operates Business Fraud Prevention LLC in Loveland, Colo. Aydlott then decided to merge the package with an internal control system after a customer hired her to aid them in creating an early version of Vitalics specifically for the customer's business.
Since then, Aydlott has sold earlier versions of Vitalics to customers worldwide, including those in Australia, Turkey and Kuwait. Vitalics has created partnerships with businesses in New York, Washington D.C., California, and Colorado all geared to help small business owners find relief in the nightmare that is fraud.
Interested small business owners can contact Vitalics, Inc. or Business Fraud Prevention, LLC, at 970-776-8395. They can also check out the website at http://www.thevitalicsystem.com and also email Aydlott at JulieAydlott(at)BusinessFraudPrevention(dot)org.
# # #