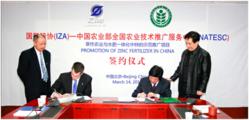 Recent research in China indicates that over 50% of arable soils are low in plant-available zinc, which is limiting further sustainable increases in agricultural production.
Beijing, China (PRWEB) April 10, 2011
China's National Agro-Tech Extension Service Center (NATESC), part of the Ministry of Agriculture (MOA), and the International Zinc Association (IZA) have launched a cooperative project to study and promote zinc fertilizer use in Chinese agriculture. Dr. Xia Jingyuan, Director General, NATESC and Mr. Greg Brouwer, Director - Zinc Nutrient Initiative, IZA, signed the agreement on March 14, 2011 in Beijing, China. Dr. Gao Xiangzhao, Director of Water Conservation Agri-Tech Division and Dr. Fan Mingxian, Director, China Program – Zinc Nutrient Initiative, IZA, also attended the signing ceremony.
The cooperative project will be funded by MOA and IZA. The main objective of the project is to include zinc as a fertilizer nutrient in the nationwide fertilizer recommendations in order to increase crop production, crop nutritional value and water-use efficiency. The project specifically recognizes the importance of zinc in agriculture and human health, and will focus on demonstration and education programs, both of which are aimed at increasing awareness of zinc's importance to agriculture and human health.
China is one of the largest agricultural countries in the world, and has experienced very rapid growth in agricultural production in the last two decades. One of the country's challenges is to use its limited arable land (only 9% of the world total) to meet the increasing food demands of its 1.3 billion people (22% of the world total).
China is the largest consumer of fertilizer in the world. In 2008 it consumed over 48 million tonnes, about 31% of global fertilizer consumption. The intensification of agriculture coupled with the use of large amounts of macronutrient fertilizers, such as nitrogen (N), phosphorus (P), and potassium (K), has depleted soils of micronutrients, with zinc deficiency being the most widespread of any micronutrient. This depletion of micronutrients has caused zinc deficiency to spread rapidly throughout China. As Dr. Xia stated:
"Recent research in China indicates that over 50% of arable soils are low in plant-available zinc, which is limiting further sustainable increases in agricultural production. This cooperative project with IZA comes at the right time to correct zinc deficiency in Chinese soils and to ensure that zinc fertilizer is used as a part of a balanced approach to fertilization in China. It will certainly accelerate zinc fertilizer production and use in China".
Zinc deficiency in humans is a critical health problem, resulting in the deaths of over 800,000 people globally every year. According to a national nutrition survey conducted in 2005 by the China State Women and Children Working Committee, zinc was the most deficient mineral nutrient, and it was estimated that in excess of 40% of Chinese children, age 0-6, suffer from zinc deficiency. Zinc fertilizer use is critical to correcting zinc deficiency in soils and crops and, thus, improving zinc status in humans. Greater zinc content in fertilizer will increase food production as well as increase the zinc concentration in agricultural products, thereby making more zinc available nutritionally. Mr. Brouwer stated:
"This cooperative project lays the groundwork for the development of a national zinc fertilizer recommendation system, not only for higher yield, but also for increased nutritional quality of the food. This partnership will make a unique contribution to both Chinese economic growth and human health."
About IZA
The IZA is a non-profit organization representing the global zinc industry by promoting zinc's essentiality in present and potential product applications, human health and crop nutrition and by highlighting zinc's contribution to sustainable development. IZA has been active in zinc and nutrition efforts by supporting scientific research, publishing information materials and holding conferences. IZA also supports the International Zinc Nutrition Consultative Group (IZiNCG) and Zinc Saves Kids.
About NATESC
NATESC, established in 1995, is an integrated agricultural technology extension organization under the MOA in China. It is composed of 23 divisions with major responsibilities, including:
1) demonstrating and promoting important agricultural technologies and improved varieties
2) managing national agricultural plant quarantine and testing and approving varieties
3) monitoring of crop pest incidences and soil fertility
4) testing and inspection of seeds, soil and fertilizers
5) supervising the national agro-tech extension network (about 400,000 extension workers) and implementing key national agricultural extension programs
6) promoting new technologies and establishing standards for crop production
7) organizing international exchanges and cooperation programs for advancing agricultural technologies and increasing crop production
# # #