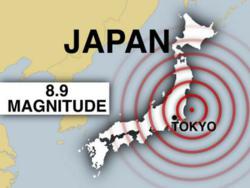 Newberg, Ore. (Vocus/PRWEB) April 11, 2011
What can be done to encourage the people of Japan? George Fox University's Trauma Response Institute is offering a simple but powerful way to do so.
In wake of the March 11 Magnitude 9.0 earthquake, hundreds of aftershocks and subsequent tsunamis that have devastated the country, the institute is organizing a "Notes of Encouragement" campaign to reach out to the Japanese people. Many of the university's staff and students plan to participate, and the general community is welcome to join the effort, according to TRI Director Anna Berardi.
Letters are being delivered to two distinct groups: students who attend college (undergraduate and graduate school, age 25 and younger) at Tokyo City University and children living in shelters in the earthquake, tsunami and nuclear disaster zones. Dr. Rie Yabuki-DiCorcia, a professor of psychology at TCU, has agreed to distribute adult-focused letters to her students and deliver child-focused letters to shelters.
"The goal of the notes of cheer is to express our care for them and their country during this very difficult time," Berardi said. "I wish to thank those who have already submitted notes of encouragement for the students and children of Japan. Anyone can contribute to the collection. Some of the contributions we've received include letters and artwork from local school children."
Berardi said notes should be simple and short since English skills for each person will be different. Expressions of care, admiration for their resilience, courage, and community support of each other is preferable rather than focusing on how bad their situation is. Consideration should also be made for differing religious beliefs.
To participate,

Buy or make a card or a bookmark. Draw a picture or make a scrapbook-type card. "Art is a great way to bridge the language barrier," Berardi said. Try to keep the size no larger than a business envelope. Square or rectangular is fine.
Sign it with your first name only or your full name, from George Fox University, Portland or Newberg, Ore. (or the name of your school if you are doing this as a school project). Do not include your address or e-mail, as the recipient may feel pressure to respond.
Place in an unsealed envelope. Address the outside of the envelope according to the population the note is intended for: To Our University Friends (for Dr. Yabuki-DiCorcia's college students), or To Our Young Japanese Friends (for children living in shelters). Both Dr. Yabuki-DiCorcia and Berardi will be checking to make sure all notes are culturally OK, as is common practice in disaster response.
Mail or drop off your letters by April 30 to Berardi, Graduate Department of Counseling, 12753 S.W. 68th Ave., Portland, OR 97223.
For more information, contact Berardi at 503-554-6104.
The Trauma Response Institute is part of the George Fox Graduate Department of Counseling, which offers graduate counseling degree programs that include masters degrees in clinical mental health counseling, marriage, couple and family counseling, and school counseling. Also offered is an education specialist degree in school psychology (EdS) and certificate programs in marriage, couple and family counseling and school counseling.
George Fox University is ranked by Forbes as the top Christian college in the Pacific Northwest and among the top three Christian colleges in the country. George Fox is the only Christian university in the Pacific Northwest classified by U.S. News & World Report as a first tier national university. More than 3,400 students attend classes on the university's campus in Newberg, Ore., and at teaching centers in Portland, Salem, and Redmond, Ore., and Boise, Idaho. George Fox offers bachelor's degrees in more than 40 majors, degree-completion programs for working adults, five seminary degrees, and 11 master's and doctoral degrees.
Contact:
Anna Berardi
Trauma Response Institute, George Fox University
503-554-6104
aberardi(at)georgefox(dot)edu
# # #