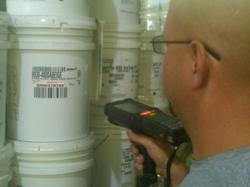 Some of the processes the company originally automated using OrbeSoft were created by non-IT personnel.
Chattanooga, TN (PRWEB) April 11, 2011
Orbesoft, Inc. together with its LX barcode data collection and automation software known as OrbeSoft SE enables Robbins, Inc. to leverage the power of Infor ERP LX without sacrificing ease-of-use.
For many companies, upgrading a legacy ERP system to an industry standard like Infor ERP LX 8.3.3 on an IBM® AS/400-iSeries-i5 can be a challenge. Not so for Robbins, Inc., the leading global supplier of high performance maple and synthetic sports flooring systems to the arena, education, religious and fitness markets.
When Robbins, Inc. needed to upgrade their legacy BPCS ERP system to LX 8, they knew they faced a daunting task. Robbins wanted to deploy a new configuration and quoting program, BuyDesign® Configurator, but it was designed to interface with Infor ERP LX, not their existing BPCS ERP system. And, although LX is a leading ERP product, its standard transaction screens did not mesh well with Robbins' operations.
To simplify data entry tasks, the Robbins IT team turned to OrbeSoft, an easy-to-use data collection automation tool that interfaces directly with any IBM iSeries software package or OBDC-compliant database. Unlike third party or custom-written programs that use their own logic to perform data collection tasks, OrbeSoft simply passes data between the data collection terminal and the ERP system session screens. Using the ERP system's application logic provides users with all the error-checking, messaging and functionality offered by LX.
The OrbeSoft suite contains all the tools necessary to design, build, test, deploy and support automated data collection for any native AS/400-iSeries-i5 software package or ODBC-compliant database. It provides ready-made solutions for SAP, KBM, BPCS, PRMS, LX, JDE and many more and includes an extensive library of CaptureSystem2® templates that can be used directly or customized with simple point & click, drag & drop configuration tools.
Robbins chose to upgrade to the newest version of OrbeSoft along with the LX upgrade because of the company's previous experience with the product. Robbins had been using OrbeSoft since 2003, first as a way to more easily interface with its bar code system but, after discovering its capabilities, they began to view it as much more.
Robbins uses OrbeSoft to manage almost every transaction including inventory lookup, pallet and container level inventory tracking, , shop floor control, shop order creation and reporting,, production receipts, shipping, purchasing order receipt, interplant receiving, consignment inventory, inventory transfers, physical inventory, outside operations with invoice entry, and cost roll up.
According to Chuck Fieger, Robbins' Business Systems Analyst, "The benefit I've seen to OrbeSoft LX barcoding is that you're using the ERP logic, not an external RPG that relies on its own logic. OrbeSoft checks for any errors and messages you might get back from the ERP. It monitors transactions to let you know when the transaction is complete so that it can move to the next piece of functionality or prompt the user to move to a different task. This helps guarantee the referential integrity by giving you confirmation that the system is updating every field correctly."
According to Tony Kleier, Robbins' IT Manager, "Another advantage to using the ERP system's logic is that if Infor were to make a program enhancement, add a new edit check, or change the specs of how a process works, it is seamlessly applied to the Orbesoft application without having to duplicate the logic."
Sports flooring is a much more complex product than people might think. There are many different options in surface (natural wood or synthetic materials), flooring color, design, subsurface and other factors that affect the floor's appearance and performance. Each of these factors can be custom configured to meet Robbins' customers demanding specifications. Robbins is headquartered in Cincinnati, OH with manufacturing facilities in Wisconsin and Michigan. Managing the process of receiving materials, tracking them through manufacturing and shipping them to the customer is equally complex.
An example is when the company receives pallets of material by the rail car load and transfers them to a consignment warehouse. Each pallet in the consignment receives a unique bar code label. As a pallet is moved from the consignment warehouse to the Robbins warehouse, it enters into their inventory and the vendor is notified that the material has been received and that an invoice can be sent.
Robbins uses an extensive bar code tracking system to follow materials into inventory, through production and shipping. All transactions are entered into the ERP via devices with OrbeSoft LX barcode screens: Intermec 2435 telnet hand-held data collection terminals, Symbol/Motorola MC9090G hand-held data collection terminals running Windows® Mobile with a graphical interface, and Pentium 133 PCs with handheld wedge readers. All these systems take advantage of OrbeSoft's mapping to the ERP using the same logic.
Early on, one of the projects Robbins automated with OrbeSoft was a complex outside operations receiving process in BPCS that involved entering data for two shop orders, purchase order receiving, and production reporting. Doing it manually, it took operators 20 - 25 minutes to enter all the data because they had to perform multiple steps on multiple screens. Using OrbeSoft, the process was streamlined so that the operator entered all the data on a single OrbeSoft screen. OrbeSoft handled all the back end transactions to complete procedure and eliminate the possibility of errors within the process.
The company also discovered that OrbeSoft was easy to use. Some of the processes the company originally automated using OrbeSoft were created by non-IT personnel. A manufacturing analyst used OrbeSoft to develop scripts to deploy the company's LX bar code system and automate a number of production processes.
For bar code printing, Robbins uses an OrbeSoft script that is run through ERP LX to generate a transaction. This triggers a program to print the label via T.L. Ashford software that also runs on the iSeries. They can direct it to print the last label created or feed it a variable telling it what label to print. OrbeSoft saves the tag number for every label they want to print.
Because of limited resources and its upgrade time-frame, Robbins' IT department enlisted OrbeSoft's project manager, Joe Wemert, to do the coding. Robbins provided Wemert with a 40 page requirements document that outlined all the transactions required. They tested everything as much as possible before the system went live but quickly discovered that end users were doing things in ways they hadn't been aware of.
"The only drama in the implementation," Kleier said, "was if we discovered our specs were wrong. We'd call Joe for support and he'd have things fixed within 20-30 minutes. The speed at which he could fix problems was pretty amazing, much faster than what you could do in an RPG program."
Working with OrbeSoft, Robbins has also implemented a new shipping procedure which the company hadn't implemented with BPCS. According to Kleier, the shipping application in LX is very time-consuming because the standard screens are not conducive to standard mapping within their bar code solution. Using some of the newer functionality within OrbeSoft, the whole process is now handled within OrbeSoft using the standard LX Pick Confirmation Screen, replacing an RPG process that had been customized on BPCS release 6.
# # #