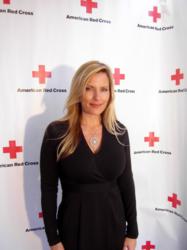 It is important that everyone be prepared in the event of a disaster and thank God for the Red Cross and other agencies that are on the frontlines
Los Angeles, CA (PRWEB) April 11, 2011
The lovely and talented actress, singer, and speaker Brenda Epperson attended this event wearing a stunning custom made 2 ½ carat pink & white diamond necklace designed by Eric A. Seropyan of Modern Design, Inc. – http://www.moderndesigninc.com.
Other celebrities in attendance were actress Jaime Lee Curtis and Raven-Symone of Disney's "That's so Raven" hit show. Jamie Lee Curtis spoke about the importance of every home and business having an earthquake kit. She emphasized everyone can do their part by putting together a kit for their home, office, and in their car. More information on how to put earthquake preparedness and how to put a kit together can be found at http://www.preparela.org.
Brenda commented, "It is important that everyone be prepared in the event of a disaster and thank God for the Red Cross and other agencies that are on the frontlines". Brenda is looking forward to taking a 3-hour disaster preparedness class given by the Red Cross to equip her to serve and help in the event of an emergency.
She along with the other guests enjoyed touring the state-of-the-art Emergency Operations Center given by Mr. Steve Allen, Chief Development Officer of the American Red Cross and learning more about the fabulous work of the Red Cross nationally and internationally.
About Modern Design
Modern Design Inc. is a manufacturer, wholesaler and retailer of custom diamond jewelry based in the heart of the downtown Los Angeles Jewelry District. They have a large selection of EGL and GIA certified diamonds and specialize in custom diamond engagement rings, wedding bands and more. In business since 1978, all their jewelry is proudly made in the USA.
# # #