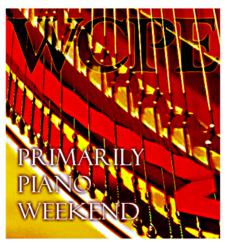 Great pianists will be showcased throughout the weekend
Wake Forest, NC (Vocus/PRWEB) April 11, 2011
WCPE's Assistant Music Director Kenneth Bradshaw announces Primarily Piano Weekend on April 16 and 17, 2011. The program will feature great composers as well as virtuoso performances.
"Great pianists will be showcased throughout the weekend," says Bradshaw, who is also As You Like It host. "Names like Sergei Rachmaninoff, Arthur Rubinstein, Alicia de Larrocha, Van Cliburn, Martha Argerich—and so many more—are all on display playing the music we have come to love."
A partial listing includes:
16 Saturday
8:00 a.m. Chopin: Four Mazurkas, op. 17
9:00 a.m. Mozart: Piano Concerto no. 17 in G
10:00 a.m. Beethoven: Piano Sonata no. 8 in C Minor (Pathétique)
11:00 a.m. Tchaikovsky: Piano Concerto no. 1 in B-flat Minor
12:00 p.m. Ravel: Sonatine
5:00 p.m. Grieg: Piano Concerto in A Minor
17 Sunday
7:00 a.m. Mozart: Piano Sonata no. 11 in A
11:00 a.m. Rachmaninoff: Piano Concerto no. 2 in C Minor
1:00 p.m. Schubert: Fantasia in C (Wanderer Fantasy)
3:00 p.m. Bach: Prelude and Fugue in A Minor, BWV 543
4:00 p.m. Chopin: Krakowiak, Concert Rondo in F
5:00 p.m. Brahms: Piano Concerto
Also the Saturday Evening Request Program enables listeners to add their favorite composers and performers to the playlist.
http://theclassicalstation.org/features_request.shtml is the link to the SERP request page.
WCPE can be heard worldwide, 24/7, via the Web in multiple streaming formats, including the next generation IPv6. Visit TheClassicalsStation.org/internet.shtml to begin listening online.
Across North America, WCPE can be heard through cable television and radio transmission affiliates. For a complete list of affiliates and cable broadcasters, visit TheClassicalStation.org/rebroadcasters.shtml and TheClassicalStation.org/cable.shtml.
In central North Carolina and southern Virginia, WCPE is found on the radio at 89.7 FM.
For more information on WCPE, or to print a downloadable version of Quarter Notes, the WCPE member's magazine, please visit TheClassicalStation.Org.
About WCPE:
With a 30 plus year history, WCPE 89.7 FM is a non-commercial, 100 percent listener-supported, independent station dedicated to excellence in Great Classical Music broadcasting. WCPE is heard worldwide on the Internet in multiple formats, including the next generation IPv6. Because WCPE receives no tax-derived support, the station conducts two on-air fundraising campaigns and two major mail-out campaigns per year to raise needed operating funds. For more information, visit http://www.TheClassicalStation.org or call 919-556-5178.
Media Contact:
Curtis Brothers
919.556.5178
curtis(at)TheClassicalStation(dot)org
###