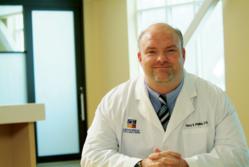 "We all need to give ourselves time to adapt to the stresses of walking without shoes, and folks with diabetes need to take extra precautions to avoid injury."
Columbus, OH (Vocus/PRWEB) April 12, 2011
If there's a time on the calendar people look forward to, it's barefoot season – especially in the northern climates where it seems like boot season will never end. But whether it's dreams of long walks on the beach or just padding around the yard, a little extra care of feet and ankles can keep people healthy and mobile all season long.
Dr. Terrence M. Philbin, board-certified orthopedic surgeon and co-founder of FootSourceMD, says going barefoot is nothing to be rushed into. "We all need to give ourselves time to adapt to the stresses of walking without shoes, and folks with diabetes need to take extra precautions to avoid injury."
Dr. Philbin explains that over the winter, feet lose their natural strength. "Our ankles and arches grow accustomed to being cooped up in boots and tight fitting shoes, and as a result, our feet grow de-conditioned."
As a result, by the time barefoot season arrives, feet are hardly ready for flimsy flip-flops let alone long walks.
This is why Dr. Philbin advises easing into going barefoot, gradually strengthening the muscles and tendons that support the ankle and arch. "Start slow, taking short walks without shoes, and allowing periods of recovery. After a few weeks of spending more and more time on your bare or stocking feet, you should be ready for a typical walk on the beach." Yet even for people with conditioned feet, Dr. Philbin encourages frequent rest breaks, and taking the time to cultivate a healthy awareness of the dangers and benefits of walking on sand.
Many athletic programs and fitness advocates have observed the benefits of training in the sand; the natural cushioning and slight surface instability have been shown to build strength for intense running. Sand running isn't for the novice runner or a person with diabetes, but for a person who has reached a high level of fitness, it can yield great rewards.
Elite athletes are especially aware of the dangers of sand: unprotected feet are prone to injury from sharp stones or glass and metal debris, and exposure to hot, abrasive sand or pavement can also dry out the skin, causing sores to develop.
"More seriously, for a person with diabetes experiencing the effects of nerve damage or neuropathy, the hazards of going barefoot might not be felt until it's too late," points out Dr. Philbin. He's seen how foot sores can become open and infected, and how glass can become embedded in a foot, resulting in dangerous infection, lost toes or worse.
Dr. Philbin advises people with diabetes to take care to examine his or her feet each and every time going barefoot, ideally with the help of a mirror or another set of eyes. But to be truly safe, the truth can hurt: "Due to the risks," says Dr. Philbin, "a person with diabetes should avoid going barefoot altogether."
Thankfully, there's still an option that indulges the sense of summer freedom: sandals.
"Diabetic Crocs, specifically the Crocs Unisex Cloud, are beneficial, providing aeration to keep the feet cool and dry, as well as toe protection and arch support," says Dr. Philbin, stressing that only Diabetic Crocs deliver these benefits. "A person with diabetes will still want to consider wearing specialty socks," says Dr. Philbin. "These provide necessary compression and support, and provide an extra layer of protection."
Many sandals found at the department store or gift shop don't provide the support necessary to promote healthy feet, but there are several styles available that are designed with arch and ankle support in mind. These include sandals made by Aravon, Ziera and Dunham.
According to Dr. Philbin, people with a favorite pair of sandals needn't worry. "Providing it's not a cheap flip flop, most sandals can accommodate many insoles and arch supports. A breathable ankle brace can be used, too."
However people enjoy the warm weather, there are plenty of ways to keep feet happy and healthy. And with the right care, come fall, a person can have enough memories of summer walks to carry them clear through to next barefoot season.
ABOUT DR. PHILBIN
Terrence M. Philbin, DO, is a board-certified orthopedic surgeon in Columbus, Ohio. He and his colleagues founded FootSourceMD.com to provide patients across the country with convenient access to reliable resources and products recommended by physicians. Dr. Philbin supports advanced medical education by serving as a reviewer for the Journal of Bone and Joint Surgeons and Foot and Ankle International, as well as director of the Foot & Ankle Service for the Doctors Hospital Residency Program. Dr. Philbin also provides care for local sports teams, including professional, collegiate and high school athletic programs.
###