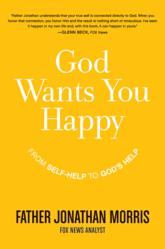 The path to happiness and a just life is complicated. Father Morris offers a way forward that people of faith will find refreshing and relevant.— Bill O'Reilly
San Francisco, CA (Vocus/PRWEB) April 11, 2011
In God Wants You Happy: From Self-Help to God's Help (HarperOne; April 2011), Father Jonathan provides the solution to discovering the life we were designed to live. Armed with the knowledge that the church offers better and more proven resources for healing and hope—and the understanding that many people often associate the church with shame and guilt—he sets out to demonstrate the church's incredible capacity to instill happiness within its followers.
Using a self-help framework to present the teachings of Jesus, Father Jonathan offers a refreshing and surprising take on how to find true and lasting happiness with a prescription he calls "The Faith, Hope, Love Cure." Whereas New Age spirituality fixates on our power to determine our destiny, Father Jonathan invites readers to become proactive believers, trusters, and lovers of the ultimate Higher Power who can bring wholeness and joy into our lives.
Including Father Jonathan's powerful insights to detach oneself from the things that interfere with personal happiness, God Wants You Happy offers a compassionate and truthful bridge back home from the unsatisfying world of self-help to the simplicity and authenticity of Christian spirituality.
About the Author
Father Jonathan Morris serves as a regular news contributor for the Fox News Channel, where he offers ethical and moral commentary to regular news items. He also serves as parochial vicar at the historic Saint Patrick's Old Cathedral in New York City. He is the author of The Promise (2008) and God Wants You Happy (2011).
Additional Praise for God Wants You Happy:
"In this wonderful book, Father Jonathan Morris explains exactly how God, through the Word of truth, the grace of Jesus Christ, and the power of the Holy Spirit, can transform your life in ways that no self-help book can do. Read this book and begin the journey of transformation."
— Rick Warren, author of The Purpose Driven Life
"The path to happiness and a just life is complicated. Father Morris offers a way forward that people of faith will find refreshing and relevant."— Bill O'Reilly
"The great St. Augustine put it this way: if you're in a sinking rowboat, paddle for shore as if it all depends on you, but pray as if it all depends on God. Father Jonathan elaborates with color and care the mysterious balance between our work and God's grace, and the welcome result could open up a new section in our bookstores: God's self-help programs."
— Timothy M. Dolan, Archbishop of New York
"Father Jonathan understands that your true self is connected directly to God. When you honor that connection, you honor Him and the result nothing short of miraculous. I've seen it happen in my own life and, with this book, it can happen in yours." — Glenn Beck
"Father Jonathan's inviting, accessible and personal new book is a reminder of an overlooked truth: faith leads to joy. Through the use of insightful meditations on Bible stories, examples from his own life, and the teachings of spiritual masters from a variety of traditions, his book shows us why joy is the surest sign of God's presence in our lives."
— James Martin, SJ, author of The Jesuit Guide to (Almost) Everything
"Father Jonathan has love in his heart for every human being, including every person lucky enough to read his powerful new book. Here is a plan for making God your partner in seeking the life you deserve, filled with happiness, hope and success."
— Keith Ablow, MD, Coauthor of The 7: Seven Wonders that Will Change Your Life
GOD WANTS YOU HAPPY
From Self-Help to God's Help
By Father Jonathan Morris
HarperOne, an Imprint of HarperCollinsPublishers
April 2011 | $24.99 | Hardcover | ISBN: 9780061913563
###