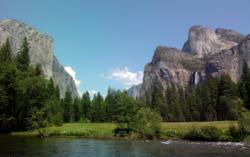 Attractions like Bass Lake, the Madera Wine Trail, Yosemite Mountain Sugar Pine Rail Road, Fossil Discovery Center and numerous art galleries and historic museums really capture their imagination
(Vocus/PRWEB) April 08, 2011
As politicians continue to debate on the other side of the country, tourists to Yosemite National Park and the surrounding area are curious what the possible closure will mean for them. Dan Cunning with the Yosemite Sierra Visitors Bureau said there is still plenty for them to do.
"A few weeks ago unprecedented spring storms dropped a lot of snow on Yosemite and shut the park down for several days because the power was out. Now, just like then, the Yosemite Sierra Visitors Bureau is giving visitors other options that will fill their vacation itineraries with fun."
The Yosemite Sierra Visitors Bureau promotes the southern entrance in to Yosemite, or Highway 41 and surrounding Madera County. Known as California's Gateway to Yosemite, the southern is the busiest gateway. Cunning said many people come through the area heading to Yosemite, but find other attractions that keep them just as entertained, even without a government shutdown.
"People who stop in our visitor centers in Oakhurst and Chowchilla always comment on how excited they are with everything they can do. Attractions like Bass Lake, the Madera Wine Trail, Yosemite Mountain Sugar Pine Rail Road, Fossil Discovery Center and numerous art galleries and historic museums really capture their imagination and they find themselves having just as much fun getting to Yosemite as they do in the park."
Cunning said he hopes for a speedy resolution to the situation, so guests can once again enjoy the whole package. "Yosemite really is a magical place and we want our guests to get that Yosemite experience as well as the Madera County experience. The whole package is what makes for really memorable vacations."
For travel information, contact the Yosemite Sierra Visitors Bureau at 559-683-4636 or email at YSVB(at)YosemiteThisYear(dot)com.
# # #