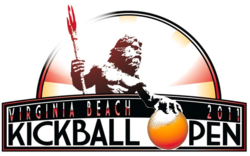 Hampton Roads is known for its competitive kickball scene.
Virginia Beach, VA (Vocus/PRWEB) April 11, 2011
Arms have been broken, muscles have been torn, and egos have been shattered in this so called child's game known as Kickball. This is not a sport for the weak minded. Worldwide, Virginia is known to be for lovers. That, folks, we are not! We are a city of fighters and competitors and those who want to stomp all over other teams who dare step onto our fields. Virginia Beach is extending open invitation to those courageous enough to compete on our grounds.
The Virginia Beach Kickball Open Tournament will be the third tournament of the 2011 National Tour of The Circuit. The event will take place at Red Wing Park in Virginia Beach, VA on Saturday, May 21st, 2011 from 8:00 A.M. – 6:30 P.M. Red wing is a 97-acre district park that has four gardens, picnic areas, grills, a dog park, open fields, vending machines, and restrooms.
Virginia Beach Kickball Open will give you an opportunity to have fun with new and old friends, while at the same time do something for a good cause. This year, we will be supporting a nine-year old girl named Autumn. She was diagnosed with a fatal genetic disorder that affects the liver, spleen, and brain causing progressive deterioration of the nervous system called Niemann-Pick Type C. Autumn has always kept a positive attitude, has a love for life and tries her best at everything she does. Please help us in supporting Autumn and her family.
Jon Reyes, Event Manager of VBKO, had this to say about the upcoming event. "Hampton Roads is known for its competitive kickball scene. In the past three years we have seen two local teams win WAKA's Founders Cup (2008, Frosty Balls), and (2010, Panik Attack), which is WAKA's National Championship Kickball Tournament held in Las Vegas each year."
As our third Circuit Event of the calendar year, the Virginia Beach Kickball Open continues a series of competitive kickball events held across the country making up The Circuit's National Tour. Additional confirmed tournaments include Los Angeles, Atlanta, Washington D.C., and New York City. Each event represents an open tournament supported by Kickball365 to bring together the ultimate competitive adult kickball teams in America. The teams travel from all corners of the nation to participate in these events leading up to the prestigious Circuit Cup- a true national championship for all competitive teams, regardless of hometown league. The Circuit Cup concludes month of competitive, fast-paced, dedicated, and fun sporting for active men and woman determined to make a mark in their communities.
About The VBKO
The Virginia Beach Kickball Open tournament is a Kickball365 Circuit Event Presented by the VBKO Team. More information can be found at Virginia Beach Kickball Open Website.
About Kickball365
Kickball365 was founded in 2006 as a means for players to give honest feedback on their kickball experience independent of any organization. It has grown into a structure shaping kickball across the country, facilitating the exchange of information and promoting the sport. Find us on Facebook and Twitter. The Circuit is a series of open tournament events supported by Kickball365 to bring together the ultimate competitive adult kickball teams in America. Learn more at: http:// http://www.kickball365.com/TheCircuit/
###