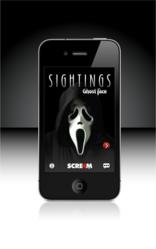 Best APP EVER — This is a tremendously great app for any horror movie fan and/or fan of the film franchise. Being able to crop "Ghost Face" into any picture is awesome. Having so much fun with it already. Highly recommended. Can't wait for "Scream 4"
Carmel, CA (PRWEB) April 12, 2011
The Sightings Ghost Face app allows fans to interact with the Scream 4 fan community, read the latest news, view Scream4 movie trailers, combine photos with dramatic poses of Ghost Face to create a sighting and share Ghost Face sightings through Facebook, all within the app.
Features:

Combine your favorite photos with one of 20+ dramatic poses of Ghost Face
Move, scale, and edit Ghost Face to create the perfect sighting
• Share your sighting with your friends by posting it to your Facebook wall or with the world by reporting it to the Sightings-Ghost Face group

Visit Latest Reports to see your reported sightings along with those from other fans
Keep up with Scream 4 news and trailers with Latest News
In the coming weeks, Red Dot Media is planning to launch a contest for the best Ghost Face sightings with cool prizes.
More details are available on the Official Sightings Ghost Face website at: http://www.sightings-ghostface.com or follow on Facebook at http://www.facebook.com/SightingsGhostFace or Twitter at http://twitter.com/#!/SightingsGF
Red Dot Media is a digital media developer, specializing in creating premium branded entertainment applications for iPhone, iPod Touch and iPad. Red Dot Media provides new ways for people to engage with premium brands to promote products while having fun.
Red Dot Media has years of experience developing and publishing mobile and electronic entertainment solutions for award-winning products for premium brands in the toy and entertainment industries. Red Dot Media has partnered with some of the world's leading entertainment brands. Mattel, Lucas Arts, Fisher-Price, IDEO and Disney Studios to name a few. More Information about Red Dot Media at http://www.reddotmedia.us
Sightings™ © 2011 Workman Communications Inc./Red Dot Media All Rights Reserved. Ghost Face® is a registered trademark of Easter Unlimited, Inc./Fun World Div. All Rights Reserved. THE ICON OF HALLOWEEN is a trademark of Fun World Div/Easter Unlimited, Inc. As seen in the motion picture SCRE4M ©2010 The Weinstein Company.
###