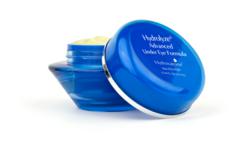 New York, NY (Vocus/PRWEB) April 11, 2011
Skincare products primarily target women, so it is surprising when a product from the health and beauty industries is released with the intention of marketing to both male and female consumers. Though this is unexpected, it can be argued that products that do so, such as the new advanced Hydrolyze®, are filling a very important gap in the market.
Hydrolyze® is a skincare cream that diminishes the appearance of dark circles, fine lines, wrinkles, bags, and puffiness around the eyes. After recently revamping its formula, the product that already attracted a wide variety of consumers is increasing its efforts to reach both men and women. Clinical studies have shown that Hydrolyze® does deliver on the promises that it makes to the public—and that it works equally as well for males as it does for females.
The sudden emphasis on marketing across gender lines is not a new strategy for the company, but after reformulating the product the makers of Hydrolyze® also began a new marketing campaign. Reaching out to male consumers is important to the makers of the product, as it has provided life-changing results to men and women alike.
Though the old Hydrolyze® was effective, the new formula is based upon recent scientific breakthroughs and utilizes three new active ingredients—Biophytex™, Eyeliss™, and Dermox—that have been proven to be both more effective and gentler than the product's previous ingredients. Stronger yet milder than the original formula, the new advanced Hydrolyze® is now safe and effective for all skin types.
The results that men and women have reported after using the new Hydrolyze® are highly
positive. Consumers have indicated that the new product is smoother and more efficient. The old formula achieved a similar degree of success, but it did so over a longer period of time. With the implementation of the three new ingredients, the makers of Hydrolyze® have been able to create a product that works much more quickly.
ABOUT:
Recently reformulated Hydrolyze® is a product that reduces the appearance of dark circles and signs of aging around the eyes. Supported by highly positive consumer reviews as well as clinical trials—performed by both dermatologists and allergists—Hydrolyze® is a gentle yet effective product that has helped numerous consumers improve their appearances. The new formula has been praised by both men and women who have benefitted from its innovative ingredients and have regained their confidence through its use.
More information about the new Hydrolyze® formula, as well as details concerning how to place an order, can be found at http://www.hydrolyze.tv.
###