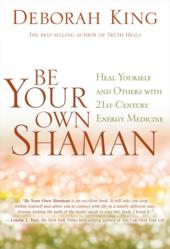 Louise Hay, the founder of Hay House, says: "Be Your Own Shaman is an excellent book. It will take you deep within yourself and allow you to connect with life in a totally different way. I loved it."
(PRWEB) April 12, 2011
The Deborah King Center and Hay House announced today the release of Deborah King's new book, "Be Your Own Shaman: Healing Yourself and Others with 21st Century Energy Medicine."
The book features shamanic techniques that show readers how to turn back the hands of time by disconnecting from the unwanted negative energy of others, retrieving their own energy from past relationships, and protecting and enhancing their vitality. It includes both Eastern and Western concepts and techniques from the earliest recorded healing practices some 5,000 years ago all the way up to King's own powerful cutting-edge approach.
King was a successful attorney in her 20s when a diagnosis of cancer sent her on a search for truth that radically changed her life. Unwilling to undergo invasive surgery, she turned to alternative medicine and had an amazing remission at the hands of a healer. Along the way, she conquered the alcohol and drug addictions she had used to bury an abusive childhood. Leaving the corporate arena for the mysterious world of healers, sages, and shamans, Deborah mastered ancient and modern healing systems, and became the healer and teacher she is today.
As part of the book launch, there is a contest being held by Hay House, with prizes ranging from free passes to Hay House I Can Do It conferences to Apple iPad2's. The contest will run for 7 weeks and can be viewed at http://promos.hayhouse.com/beyourownshaman/.
For additional information and to read an excerpt from Be Your Own Shaman, go to http://www.deborahkingcenter.com/BeYourOwnShaman/. The book is available on Amazon at http://www.amazon.com/Be-Your-Own-Shaman-21st-Century/dp/1401930786/ref=sr_1_1?s=books&ie=UTF8&qid=1302533384&sr=1-1.
###