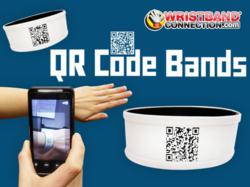 WristbandConnection.com is announcing the pending completion and launch of its newest personalized wristband product line - QR Coded Silicone Wristbands or simply QR Code Bands™.
Houston, Texas (PRWEB) April 12, 2011
WristbandConnection.com, a company known for personalizing silicone wristbands and popular awareness products, such as "Don't Text and Drive" thumb rings,Texting Kills Thumbrings and "Band Against Bullying" wristbands, is announcing the pending completion and launch of its newest and most exciting personalized silicone wristband product line - QR Coded Silicone Wristbands or simply QR Code Bands™.
This exciting new product make use of the fantastic QR (Quick Response) Bar Code technology which came out of Japan many years ago, but is still very new to America in the ways it is used. If you have not already seen these cool looking little codes, we are sure you will start seeing them in movie posters, ads and food labels soon. They are so unique in that they allow a multitude of data to be placed in an area that would never allow printed words to be. WristbandConnection.com's online QR Code Bands™ design tool will allow customers to create their own personalized QR Code which will then be embedded into a special Patent Pending silicone wristband which makes it easy to read the code and protects the code from wear for years to come. The QR Code can even be combined with other messages and artwork which can be printed onto the wristband.
To the naked eye a QR Code looks like a distorted image, but in reality they are mobile phone-readable 2D barcodes containing advertisements, text based information, a website URL, an email address, phone number, or a pre-formatted SMS message. The QR Code Bands™ can store an unbelievable 1,700+ characters of detailed information!
WristbandConnection.com CEO, Victor Rey states "Connecting people is in our name and we are taking personalized silicone wristbands to the next level! Using QR Code technology on our Patent Pending 1 inch wide wristbands, the QR Code wristbands, will allow anyone with a "smart"-enabled phone to decode the message or be transported directly to a URL etc."
Links to Facebook, Twitter, You Tube or a website, personal messages, favorite phrases or passages, personal or business contact information, VIP access or other types of information can be stored and selectively shared! Imagine someone asking for your Facebook page, you simply present your wristband and with a snap of an iPhone or other QR Reader enabled mobile device, they are instantly connected! Can you see this? Kids and people of all ages will love it. Parents will love them when sending the kids on field trips or to camp, because they can create bands that store all types of contact and emergency info. Marketers can use these to promote new products and websites. The uses are endless and we have the technology to make it available on wristbands right now!"
Rey also states that "What makes these different than other applications of QR Codes is that people can wear them, and they are as much a personal statement as they are a fashion accessory and information tool. The QR Code Bands™ will expand upon the personal expression of wristbands. We feel this is the perfect way to "personalize" QR Code technology and make it not only fun, but maybe even a useful part of our everyday lives. "
With clients such as AT&T, Google, OfficeMax, Coca-Cola, UPS, and American Express, WristbandConnection.com is sure to see some great exposure and create new marketing plans for others with this product.
Did you know? A QR Code is a two-dimensional bar code which was created by the Japanese corporation Denso-Wave in 1994. The creator intended the code to allow its contents to be decoded at high speed. Denso-Wave has not exercised its patent rights, thus allowing the technology to be freely shared and used. It's just another way that the Japanese have made our world a better place. WristbandConnection.com will donate $1.00 from every QR Code Bands™ sale to the American Red Cross - Japan Earthquake and Pacific Tsunami disaster relief fund.
Contact:
Wristband Connection National Sales Office
1.800.451.9711 - Toll Free
713.785.0088 - Local
WristbandConnection.com
# # #