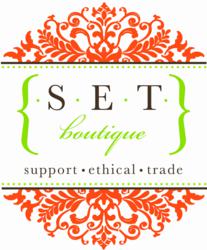 (Vocus/PRWEB) April 11, 2011
SET Boutique is making charitable shopping simple and transparent. The website was recently updated and the former Give&Get program was completely revamped. As owner Lindsay Sullivan explained cheerfully in the SET Boutique blog:
The old format:
With the Give&Get program you could donate to an organization and receive benefits such as gift wrapping and discount coupons.
The New and Improved format:
SET Boutique will donate $5.00 when you spend $20.00 or more. It is automatic and easy! The list of organizations is now in your shopping cart. It will let you know how much more you need in order to qualify for a donation, and when your cart reaches the minimum you can choose which organization SET Boutique should donate $5.00 to.
There are six non-profits currently involved in SET Boutique's donation directory. Since human trafficking inspired the launch of SET Boutique three organizations work to prevent trafficking, spread awareness, and/or directly rehabilitate survivors. Education plays a vital role in providing youth with opportunities that will help them be less vulnerable to exploitation. Two youth organizations are Project Enlighten, and Ubaka U Rwanda. In the last month American Red Cross was added to support aid relief in Japan.
Sullivan is optimistic about increasing the momentum of charitable contributions as result of this change. "The responsibility to donate was transferred from the customer to SET Boutique. Customers can sit back, enjoy shopping, and know that their purchases are making a difference".
###