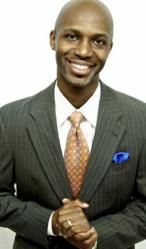 He believes in the National Success Training Series so much, that he is willing to pay the entrance fee of anyone who is looking to partner with him for success
(Vocus/PRWEB) April 11, 2011
The Unequivocal National Success Training reveals how entrepreneurs can explode their business. Tony Tate, a Visalus Sciences trainer believes that anyone can benefit from this information and so should you.
In an interview, Tate stated "He believes in the National Success Training Series so much, that he is willing to pay the entrance fee of anyone who is looking to partner with him for success".
As a leader who helps his members qualify for a FREE BMW FOR LIFE in 45 Days, with his prescribed format that incorporates ViSalus Proven System coupled with his strategies and mentorship, individuals who are looking to increase their bottom line should carefully consider his words.
Hosted at Duke Energy Center in Cincinnati, Ohio on April 15-17, 2011, by Visalus Academy Success Training, this influential event will cover a range of outstanding success stories and topics.
They include:

Tips and Strategies for Success by Visalus Top Leaders
Body by Vi TM Challenge Champions Crowned
Experience New Product Enhancements
Watch as BMWs are given away on the stage
Event attendees will gain key knowledge and insights from Visalus Trainers who are experts in the network marketing industry. The National Success Training paves the way for entrepreneurs who want to jump on the fast track to success.
With the National Success Training's personalized yet systematic approach to sharing successful strategies, the savvy entrepreneur will take advantage of Tony Tate's invitation to join him and his team in Cincinnati, on April 15-17, 2011.
Tate believes his team's high achievement levels comes from producing top notch Visalus distributors who believe in helping their teammates succeed through effective and systematic training.
In fact, in an interview with his publicist Tatyana Gann, Tate states "when I went to my first event, I took the knowledge learned and went out and earned my first of TWO BMWs in my home in 12 days from leaving my first ViSalus Sciences National Training Event".
Savvy individuals who want to make a change will learn more about how Visalus can help them transform their lives by contacting Tate at http://www.tonytate.net or at 904.537.1740. In addition; to learn more about how the Body By Vi ChallengeTM works a free report is available for immediate download. http://tonytate.bodybyvi.com
For media Tony Tate is available for interviews. Many resources about Tony Tate's online network marketing training, events and special webinars can be obtained at http://www.tonytate.net.
Publicist Tatyana Gann, 615.354.7625
###