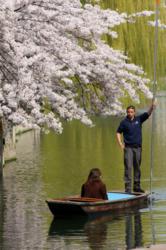 Spring and summer are particularly beautiful seasons on the College Backs and a Season Ticket allows this unique setting to be explored again and again.
(Vocus/PRWEB) 13 April 2011
It was 'Ratty' in The Wind in the Willows who first espoused that 'there is nothing, absolutely nothing, half so much worth doing as simply messing about in boats'. That sentiment is still alive today and Scudamore's Punting Company in Cambridge is happy to offer its customers the chance to do their own messing about on the River Cam this season with a range of Self-Hire Season Tickets. The ticket allows almost unlimited punting as well as rowing, canoeing and kayaking.
Spring and summer are particularly beautiful seasons on the College Backs and a Season Ticket allows this unique setting to be explored again and again. Enjoy the architectural splendour of King's College Chapel or the stunning gardens of Clare College in full bloom from the prime vantage point of the river. Soak up the atmosphere of the buildings which once housed some of the world's foremost scientists, mathematicians, engineers and politicians.
The tickets start from only £90 and allow users to benefit from one free hire session each applicable day (either 5 or 7 days per week) between now and the end of September 2011. A hire session applies to one craft at a time and can be as short as an hour or as long as a day's opening times. So, there is plenty of time to take a relaxing cruise up to Grantchester or a knowledge-enhancing jaunt down the College Backs.
As well as there being an obvious leisure benefit to the Season Tickets, there is also an important fitness aspect to be considered. With the high price of gym membership, the Season Tickets offer a cheaper alternative and can provide customers with a picturesque outdoor location for their exercise sessions. Kayaking, in particular, is a physically demanding activity which can be the source of a very good workout. Full training and buoyancy aids are provided as standard by Scudamore's.
Either 7-day or 5-day tickets are on-sale now and can be purchased from Scudamore's website or by telephoning 01223 359750.
For press visits, high resolution pictures or further information, please contact Robin Woolley at Scudamores via robin(dot)woolley(at)scudamores(dot)com or on 01223 359750.
Grantchester Excursions
The stretch of the river towards Grantchester is very well suited for punts, kayaks, Canadian canoes and row boats. The appeal of Grantchester remains in its picturesque location, it offers customers a chance to enjoy a relaxing stroll through the meadows or a hearty lunch at one of the welcoming pubs in the village.
Season Ticket Purchase
Season Tickets are on sale now. The tickets are priced as follows: 'Darwin' 5 day individual ticket £90, 'Erasmus' 5 day joint ticket £120, 'Newton' 7 day individual ticket £150 and a 'Pepys' 7 day joint ticket for £180. Please note that a security deposit, in the form of a credit card imprint, will be taken before the commencement of each hire. Your Season Ticket will also be retained whilst you are out on the river. Training for all craft and life jackets are always available.
This year we have introduced individual tickets to go alongside our standard joint tickets. The aim of this is to offer as much flexibility to our customers as possible. Please be aware however that we will not be able to store joint tickets on station as we have done in previous years. Customers wishing to purchase a joint ticket must regulate the use of the ticket between the two named individuals. Joint ticket holders will receive one ticket between them.
About Scudamores
Punts were introduced to Cambridge as pleasure craft in Edwardian times. One of the pioneers of punt hire on the River Cam was Mr F. Scudamore, who founded his business in 1910, quickly establishing punting as Cambridge's favourite pastime.
Scudamore's is now 100 years old. Today, Scudamore's Punting Company continues the tradition of an historic family business and now own the world's largest fleet of punts, with over 150 craft available for hire along two routes.
###