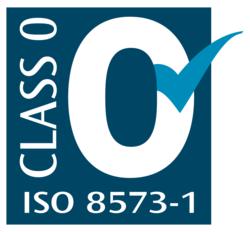 ...our commitment to oil free technology and to the safety of processes, human beings and the environment
Antwerp, Belgium (Vocus/PRWEB) 11 April 2011
Antwerp, 11 April 2011: Atlas Copco has announced that all its oil-free compressors are now certified CLASS 0 with regard to oil content according to the latest edition of the ISO 8573-1 standard. Atlas Copco is the first compressor manufacturer to receive the certificates proving all of its oil-free air technologies are certified 'CLASS 0' for oil content according to the latest international standards.
Certified to the latest standard
All of Atlas Copco's oil-free technologies have been certified under the new standard. This includes its centrifugal, tooth, scroll, piston, water-injected screw, oil-free screw and four-stage combined piston and screw machines, as well as its mobile P series of rental compressors. These compressors deliver 100% oil-free compressed air to the textiles, food and beverage, mining, offshore, and electronics (including semiconductor fabrication and clean rooms) industries, as well as to pharmaceutical, chemical and cosmetics manufacturers, automotive plants for paint spraying, municipalities for water treatment and hospitals for critical medical applications.
The first edition of the standard ISO 8573-1 was a first step, in 1991, to acknowledge the importance of air quality and classify air output with respect to the levels of three contaminants: oil, water and dust. The evolution of the standard over time has reflected the ever-increasing needs for air quality for processes and sensitive end products like food and pharmaceuticals. The second edition of the standard, released in 2001, included the CLASS 0 classification for oil content. Atlas Copco was the first manufacturer to obtain the CLASS 0 certification in 2006 from the Technische Überwachungs-Verein who found no oil whatsoever in the compressed air of the Z series of oil-free rotary screw compressors. The other Atlas Copco oil-free technologies (centrifugal, tooth, scroll, piston and water-injected screw) followed suit in 2007, confirming the company's leadership across the range of pressures from 300 mBar to 40 bar. ISO 8573-1 Ed. 2 (2001) was revised in 2010 to reflect a changed dust content and gave rise to the new standard, ISO-8573-1 Ed. 3 (2010).
"Certification according to the latest 2010 edition of this standard bears testimony to our commitment to oil free technology and to the safety of processes, human beings and the environment," states Chris Lybaert, President of Atlas Copco's Oil-free Air Division.
Certificates regarding oil content of the existing Atlas Copco compressor ranges have been issued by the renowned independent Technische Überwachungs-Verein (German Technical Monitoring Association, or 'TÜV'), based on the most stringent measurement and test methods available. These confirm that no traces of oil could be detected.
One Atlas Copco customer is the L'Oreal factory in Suzhou, China. It uses compressed air for pneumatic devices and dry process after sterilization. Air quality is paramount in the manufacture of high-quality makeup products. Even the slightest traces of oil can result in altered or polluted product batches and the risk of health hazards for consumers. For this reason L'Oreal chose Z series CLASS 0 compressors at the start of production in 1999.
According to Mr. Huang, ETNSE Manager at L'Oreal Suzhou, "We chose Atlas Copco because the CLASS 0 Z range matched our high manufacturing standards and contributed to our ISO 14001 and OHSAS18000 certifications. As an additional benefit, we have managed to reduce the energy consumption of the compressor room by 20%." The plant received the EFE (Environment Friendly Enterprise) Award, which is the highest award regarding environmental protection from Jiangsu Province, in 2008.
Industry leadership in oil-free technology
Atlas Copco is in a position to meet the highest customer specifications in terms of compressed air quality. This re-certification highlights Atlas Copco's ongoing commitment to safeguard its customers' production through 100% certified oil-free air.
Atlas Copco is an industrial group with world-leading positions in compressors, construction and mining equipment, power tools and assembly systems. The Group delivers sustainable solutions for increased customer productivity through innovative products and services. Founded 1873, the company is based in Stockholm, Sweden, and has a global reach spanning more than 170 countries. In 2010, Atlas Copco had about 33 000 employees and revenues of BSEK 70 (BEUR 7.3). Learn more at http://www.atlascopco.com .
Oil-free Air is a division within Atlas Copco's Compressor Technique business area. It develops, manufactures, and markets oil-free air compressors for all kind of industries worldwide where the air quality is vital, and oil-injected compressors for less critical applications. The division focuses on air optimization systems and quality air solutions to further improve customers' productivity. The divisional headquarters for the division is located in Shanghai with main production facilities in Belgium, China, India and Brazil.
FOOTNOTE TO EDITORS:
More information and high-resolution digital photographs may be found on the website http://www.classzero.com
###