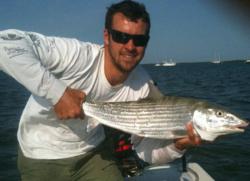 there are some incredibly big bonefish in Islamorada
(Vocus/PRWEB) April 13, 2011
Captain Brian Helms guides Troy Pruitt to 2nd place in their frist time fishing in the 15th Annual Jim Bokor Islamorada Spring All-tackle Bonefish Tournament held April 6-8, 2011
Daily High Point
Day 1: Jim Bokor, Jr. guided by Jared Raskob 1052 pts.
Day 2: Troy Pruitt guided by Brian Helms 595 pts.
Day 3: Troy Pruitt guided by Brian Helms 426 points
High Point First Time Angler: Troy Pruitt guided by Brian Helms
Largest Permit: 36 " Frank Delucas guided by Mark Krowka
Honorable Mention: Chris Buckley guided by Paul Tejera 33 " permit on fly
Largest Bonefish: Jim Bokor, Jr. 11. 12 pounds
Most Release Points: Jim Bokor, Jr. 1000 points
Runner-Up Grand Champion: Troy Pruitt guided by Brian Helms
3 releases and 2 weight fish 9.14 pounds, 7.14 pounds
Grand Champion: Jim Bokor, Jr. guided by Jared Raskob
10 releases and 1 weight fish 11.12 pounds
The spring all-tackle http:// bonefish tournament is based on weight of the fish. Over the course of three days you are allowed to bring in 5 weight fish which have to be over 7lbs or you get a 500 point penalty for one to small and you can't bring more than 2 weight fish back per day. Points are given to weight fish per ounce and points increase for bigger fish and you get more points for catching a fish on fly or artificial lure than catching one on bait. So a 8lb fish on bait is worth 2 points per ounce on bait, 3 on fly and a 10lb fish is worth 3 points per ounce on bait, 4 on fly. You also gain points for release fish which are any fish caught less than the seven pound mark your release fish points can't exceed the total number of weight points so you have to catch big fish to win.
Day 1 - Captain Helms left the tournament headquarters at the Islamorada fishing club at 6am and headed north about 30 miles. A cold front had pushed through the night before so it was a little cold and hard to find fish in the morning. After only about 4 shots at schools of smaller fish we made another run farther north. The tide just started to fall and big fish were pushing out of the channels mudding hard. They had 12 shots the rest of the day but no luck. They turned in a zero catch for the day, two weight fish were caught that day and a bunch of releases.
Day 2 Captain Helms and client Mr. Pruitt left again at 6am and ran again to the north. The first stop they made proved to be good with lots of tailing fish at 8am. "We caught a nice fish about 7 lbs but to close to bring in and risk a 500 points penalty but we had a release." states Helms. They had shots at big fish all day but couldn't feed one. "We made one more move at the end of the day and finally got a big fish on, we netted the fish and put him straight into the live well to bring back for a official weight." Back at the fishing club two smaller bonefish had already been weighed, they put the fish on the scale just short of 10lbs, 9.14. With no one team having two weight fish Helms and Pruitt were back in the hunt.
Day 3 Feeling good about being 2nd they left again at 6am and reached their destination about 20 minutes before lines in and could already see fish working the flat tailing. As the time came for lines in they had a school coming right at them. One minute after lines in we were hooked up to a nice fish "I netted the fish and thought he was close but not sure. I hung him on the boga grip and he was right at 8lbs so we put him in the live well" said Captian Helms. After a couple more shots at tailors and no bites they made a big run north to get away from the increased boat traffic on Friday. They were quickly rewarded with two more releases and lost one more. They fished the rest of the day and a good number of shots at big mudding fish but could get one to bite.
When lines out came Captain Brian Helms and Mr. Pruitt shook hands on a job well done, however they placed. It being the first time either had fished this tournament any placement world be impressive. Back at the fishing club no one had turned a weight fish for the day... just releases. When Helms put their fish on the scale, it registered 7.14 just under 8 lbs making it a "weight fish" for points. They hadn't won but we were high point day two and three and had secured 2nd place.
# # #