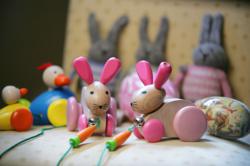 We believe in quality toys that will last and encourage imaginative play
(Vocus/PRWEB) 13 April 2011
This Easter, a new online toy shop, Bumblebee Toys, is offering parents an alternative range of traditionally-crafted toys that bring hours of fun and enjoyment.
Bumblebee Toys is sure that its soft, floppy rabbits, bouncing pull-along wooden rabbits and waddling, pair of pull-along ducks will get children (and parents) hopping with excitement on Easter morning. What's more, these toys will carry on being played with for months and years after the Easter eggs have been eaten.
"We believe in quality toys that will last and encourage imaginative play," says Stephen Watts, founder of Bumblebee Toys. "All our toys are hand-crafted in Europe out of high quality, child-friendly materials. We selected this trio for Easter as giving excellent play value as well as the ever necessary 'ahh' factor."
Bumblebee's soft knitted, long legged rabbits make the most gorgeous cuddly friends, for adults and children alike. They are handmade from 100% pure Scottish wool and then felted for strength. Measuring 35cm from the tip of their ears to their feet, the rabbits have stripy jumpers in a range of colours. Choose between Pip, Fernie, Rowan or Blair.
Hanna Hoppel, the pull-along wooden rabbit, is made with big rear wheels and small front ones so she looks like she's hopping along behind. With her bright pink ears, cute face and white button tail, she chases a wooden carrot. Young children find its bumpety movement fascinating while older children try to work out how it's done!
The pull-along mother duck and duckling duo is especially cute as the mother duck moves her tufted head from side to side as she goes along, as if checking her baby is still there! The bright colours add to the appeal of this waddling Easter pair.
Prices are £29.50 for the rabbits, £12.90 for Hanna Hoppel and £22.90 for the mother and baby duck (exclusive of delivery charge). They are available from the Bumblebee Toys website http://www.bumblebeetoys.co.uk
Bumblebee Toys is a family company specialising in high quality toys made in the UK and Europe. While its products are only available online, its website aims to give the customer the experience of a friendly toy business with the convenience of modern internet shopping. All its products are sourced from manufacturers using sustainable and recyclable materials, who share the company's passion for innovative toys designed to stimulate, entertain and educate the modern child.
For more information visit http://www.bumblebeetoys.co.uk
Easter toys – Apr-11
Press Enquiries:
Toni Turner or Alison Haynes at The Publicity Works
Tel: 01263 761000
Email: bumblebeetoys(at)publicityworks(dot)biz
For more news about Bumblebee Toys visit the press office at http://www.publicityworks.biz
Stephen Watts at Bumblebee Toys: Stephen(dot)Watts(at)bumblebeetoys(dot)co(dot)uk
###