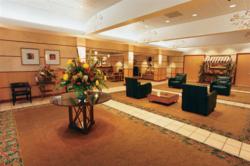 Our proximity to the largest gaming market in the US will make it possible for us to deliver the most tax revenue to the Commonwealth.
Bushkill, PA (Vocus/PRWEB) April 11, 2011
Fernwood Hotel and Resort's quest to win approval for a Category 3 resort license from the Pennsylvania Gaming Control Board has gained a key supporter, Rep. Rosemary Brown (R-Monroe/Pike), who has written a letter of support on behalf of the license application.
The resort, operated by the Bushkill Group in the eastern Pocono Mountains, is one of four applicants competing for the final remaining resort gaming license. A Category 3 resort gaming license is a restricted license, meaning patrons must be staying at the resort to be eligible to play, as opposed to broader licenses that open gaming to the public at large.
"This license would enable Fernwood Hotel and Resort to create many much-needed, family-sustaining jobs in our area and bring in additional tourists who will visit other attractions, further spurring economic development," said Brown. "Of the four applicants for this final license, Fernwood has shown it has the highest local and state tax revenue numbers of all the applicants. It also has a proven partner in Penn National Gaming. I know the Fernwood management team and recognize its long history of giving back to its employees and the community."
"More than 80 percent of our guests come from the nation's largest gaming market, New York and northern New Jersey," Fernwood Hotel and Resort President and CEO Andrew Worthington said. "The license is restricted in size and requires resort patronage to be eligible to game. We have more than 900 rooms, year-round amenities and the ability to accommodate 4,500 overnight guests. We have the largest number of annual visitors of any of the applicants."
Fernwood is one of the largest resorts in the Pocono Mountain region and has been operating for more than 90 years. It generates more than $3 million annually in state and local taxes and is one of the largest employers in the eastern Poconos.
"We have been engaged in the application process for more than five years and have demonstrated that we are the applicant that will deliver the most new tax revenue to the Commonwealth," said Worthington. "As I have said throughout the process, 'Put the machines where the people are.' We believe that our proximity to the largest market in the United States makes Fernwood Hotel and Resort that location."
The Pennsylvania Gaming Control Board is expected to award this final resort license at their scheduled Board Meeting this Thursday.
###