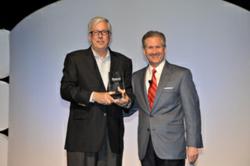 Dallas, Texas (Vocus/PRWEB) April 11, 2011
Ryan, a leading global tax services firm with the largest indirect tax practice in North America, today announced that the Firm commemorated 20 years of tax innovation during a four-day celebratory event and annual meeting at the Aria Resort and Casino in Las Vegas, Nevada. This all-expense paid celebration for Ryan associates, family, and friends included golf, spa and salon appointments, Las Vegas shows, networking events, and an Awards Ceremony honoring the outstanding individual contributions of Ryan professionals and associates. Ryan also held its annual Firm Meeting to review 2010 accomplishments and record revenue generation, reflect on its 20-year growth history to becoming the 7th largest corporate tax services firm in North America, and outline its strategic blueprint for future global expansion and market share dominance.
The event culminated in an Awards Ceremony with Ryan associates, family, and friends. Many associates were honored for their tenure and contributions to Ryan's success over the past 20 years, as well as individual achievement awards for superior performance, innovation, client service, and results. The highlight of the evening was the announcement of the 2011 Chairman's Award winner in recognition of the employee that exhibits outstanding accomplishments and exemplary service throughout the year. The Chairman's Award is the highest level of recognition in the Firm and is awarded annually to the associate that best reflects the Ryan core values while delivering outstanding results.
Mark W. Eidman, Ryan Principal and Controversies and Appeals Practice Leader, was honored with the 2011 Chairman's Award. Mr. Eidman joined Ryan in 2006 and is one of the leading state and local tax attorneys in the country. He represented Ryan clients in dozens of administrative appeals and court cases throughout the country and successfully litigated some of the largest state and local tax cases in the United States. He has delivered incredible value and results for Ryan's premiere portfolio of Fortune 500 clients and exemplifies the innovative approach and relentless pursuit of value delivery that Ryan strives to achieve on behalf of its clients worldwide.
Blake Holman, Ryan Senior Vice President and Chief Information Officer (CIO), received the inaugural 2011 Innovatus Award recognizing the employee that exemplifies the Ryan brand commitment to delivering "Innovative Solutions to Taxing Problems." Mr. Holman joined Ryan in 2005 and has consistently demonstrated an innovative approach to improving client efficiency, effectiveness, and results through a suite of technology-based productivity improvement tools and processes leveraged throughout the field for delivering client value and tax savings.
At the end of the celebration, the Ryan Principals and Corporate Officers presented Ryan founder, CEO and Managing Principal G. Brint Ryan, with a donation of $50,000 to the Ryan Foundation in his honor. The Ryan Foundation, a 501(c)(3) charitable foundation, was chartered to oversee the Firm's contributions to charitable organizations, schools, universities, and other deserving entities. In addition to the $50,000 donation from the Principals and Officers, Mark Eidman generously donated his $25,000 Chairman's Award bonus to the Ryan Foundation in honor of Brint's accomplishments over the past 20 years, resulting in an astounding $75,000 that will fund the foundation's inaugural charitable donations.
"Ryan's success has resulted in substantial rewards for our associates, and I sincerely thank them for their compassion, generosity, and willingness to give back to our community," said G. Brint Ryan, CEO and Managing Principal of Ryan. "I also want to thank each and every one of them for their dedication to delivering incredible client results over our 20-year history, as well as their commitment to making Ryan the leading tax services firm in our industry."
About Ryan
Ryan is a leading global tax services firm, with the largest indirect tax practice in North America and the seventh largest corporate tax practice in the United States. Headquartered in Dallas, Texas, the Firm provides a comprehensive range of state, local, federal, and international tax advisory and consulting services on a multi-jurisdictional basis, including audit defense, tax recovery, credits and incentives, tax process improvement and automation, tax appeals, tax compliance, and strategic planning. In 2010, Ryan received the International Service Excellence Award from the Customer Service Institute of America (CSIA) for its commitment to world-class client service. Empowered by the award-winning myRyan work environment, which is widely recognized as the most innovative in the tax services industry, Ryan's multi-disciplinary team of more than 900 professionals and associates serves many of the world's most prominent Fortune 1000 companies. More information about Ryan can be found at http://www.ryan.com.
###