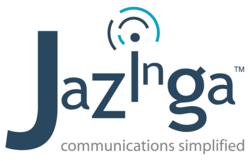 Toronto, ON and Dallas, TX (PRWEB) April 12, 2011
Jazinga and Broadvox jointly announced today that the Unity 2000 IP PBX has achieved interoperability certification from Broadvox, a VoIP and telecom industry pioneer. This certification assures customers that, with the Jazinga Unity 2000 and Broadvox GO! SIP Trunking, they can enjoy cost-effective IP communications, whether migrating in stages from TDM or making a complete switch to VoIP.
Combining Broadvox GO! SIP Trunking with the Jazinga Unity 2000 provides customers one of the most reliable and energy efficient telecommunications solutions available. In addition, significant cost savings (of up to 70%) on telecom costs are achieved without sacrificing features or security because calls are transmitted over the robust, voice prioritized private Broadvox network.
"Jazinga exists to establish affordability and simplify manageability of a full featured phone system for the small business customer," said Sergey Galchenko, CTO at Broadvox. "Interoperability with Jazinga provides small business customers an appealing and cost effective solution for companies seeking a "big company" presence at an affordable price, making Jazinga a great choice when shopping for a communications system to use with Broadvox SIP Trunking."
"Having achieved interoperability certification with Broadvox, Jazinga customers and distribution partners now have a reliable, nationwide option for SIP trunking," stated Randy Busch, CEO of Jazinga. "The extensive Broadvox certification requirements assure Jazinga customers and distribution partners of the availability and dependability of the two companies' combined service offerings."
Jazinga integrates data networking, traditional telephone service and low-cost SIP trunking service into one simple solution for small business. It's an affordable, full featured communication appliance with auto-provisioning capabilities for phones and a wizard-driven installation process that requires minimal technical expertise to complete. For more information please contact Jazinga at info@jazinga.com or call 800.671.0677.
Broadvox SIP Trunking solutions provide unlimited local calling, discounted toll-free, domestic and international long-distance with the flexibility to satisfy virtually any unique customer requirement. With phone numbers from over 8,500 rate centers, Broadvox can provide new or port existing numbers nationwide. For more information about selling or purchasing Broadvox GO! SIP Trunking products, please contact Broadvox at info(at)broadvox(dot)com or call 800.273.4320.
About Jazinga
Jazinga provides an affordable, yet multi-featured, communications system designed especially for small businesses. Ideally suited to organizations of fewer than 50 people, the Unity 2000 IP PBX is a sophisticated corporate phone system, distinguished by its user interface, simplified wizard installation and telephone set auto-configuration capability– in a less than 20 minute setup time. The system supports a mix of traditional and/or VoIP services. Jazinga Inc. is privately held and headquartered in Toronto, Canada. For more information, please visit http://www.jazinga.com.
About Broadvox
Founded in 2001, Broadvox is a worldwide leader in providing integrated managed VoIP services to SMB, enterprise and carrier customers. It has deployed one of the largest full-featured global VoIP networks and is trusted by 300 telecommunications carriers, ASPs, ISPs and over 10,000 businesses to transport 15 billion minutes of voice and data traffic annually. The Broadvox Network Operations Center, operating 24x7x365, provides the reliability, security and quality of service required by the world's most discriminating customers. Broadvox offers SIP Trunking, SIP origination and termination services, and hosted communications solutions. Broadvox is headquartered in Dallas, Texas. For more information about Broadvox, visit http://www.broadvox.com.
Jazinga Contact:
Rod Weir
VP Alliances
416.548.4755 x188
http://www.jazinga.com
Twitter at http://www.twitter.com/Jazinga
Broadvox Contact:
Malachi Threadgill
Internet Marketing Manager
214.646.8014
http://www.Broadvox.com
Twitter at http://www.twitter.com/Broadvox
###