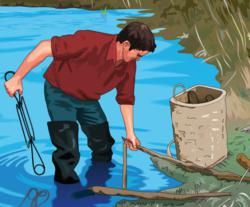 The Hunter-Ed.com trapper course saves time and money.
-- Kurt Kalkomey, President
(Vocus/PRWEB) April 13, 2011
In the Today's Trapper online course (http://www.hunter-ed.com/Trapper/), all content has been developed in conjunction with the state hunting safety agencies responsible for hunters education courses. Trappers (furharvesters or furtakers) can learn material taught in classroom courses and study the fast-paced trapper education course online when it fits their schedule.
Identical online trapper education course material is offered for each state, however, each state agency has unique trapper education guidelines and additional certification requirements (http://www.hunter-ed.com/Trapper/requirements.html). The following state hunter education agencies have approved Hunter-Ed.com's Today's Trapper online hunter education course: the Oregon Department of Fish and Wildlife and the Utah Division of Wildlife Resources.
The regulated trapping of furbearers is an important tool of wildlife management, which helps preserve habitats and maintain animal populations at healthy levels. The sale of recreational trapping and hunting licenses funds wildlife conservation programs. These are just a few reasons states are partnering with Hunter-Ed.com to certify students who successfully complete the Today's Trapper online education course.
The Hunter-Ed.com Today's Trapper online education course includes numerous detailed trapping education illustrations to give students a clear idea of how to prepare for furharvesting and what to expect once they're in the field.
The Hunter-Ed.com Today's Trapper online course (http://www.hunter-ed.com/Trapper/) was developed in short segments designed for bite-sized learning and quick comprehension, just like our other hunter education courses. Learning is reinforced with 5- or 10-question reviews following each unit of study for thorough hunters education.
Students set up a free account and log in or out as they wish. The online trapper education course fee includes the course, unit quizzes, and unlimited attempts at the online trapper education certification exam. No payment is required until the final exam is passed, which is true of almost every hunters safety course we offer.
"We are proud to offer an online trapping course," says Kurt Kalkomey, President, "because trapping is a form of recreation that supports conservation efforts when it's regulated. Hunter-Ed.com continually innovates so that we can introduce more folks to online hunter safety courses and responsible furharvesting. Our motto is 'Get safe, get certified' so you can maximize your enjoyment of the outdoors and take part in a tradition that helped develop our nation. These days, very few people can devote an entire weekend or multiple week nights to take a classroom course. The Hunter-Ed.com trapper course saves time and money."
Hunter-Ed.com is a division of Kalkomey, Inc., which publishes more than 190 hunters education products selected by 48 states. For more information about official hunter safety courses and state requirements for hunters education, please visit Hunter-Ed.com (http://www.Hunter-Ed.com/).
###