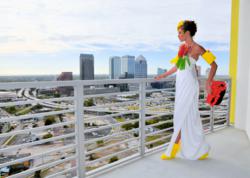 Tampa, Fla. (Vocus/PRWEB) April 11, 2011
Guests at Towers of Channelside's "Ooh-la-la" event enjoyed an evening of high style at the condominium community last Friday. They were invited to "fashion their seat belts" for an exciting evening featuring wearable art designed by St. Petersburg's House of Ska, where designers Ivanka Ska and Ungala took everyday objects and transformed them into wonderful wearable creations, modeled by living statues and during a runway show. The evening's edgy outfits were made of objects that included straws, water cooler cups, and even synthetic hair.
A salute to looking good and living well, the event showcased two Grand Penthouses at Towers of Channelside. Mise en Place served a signature cocktail, called the Ooh-la-la, and champagne was kept chilled on ice in the master bathtub. Guests enjoyed 360-degree views from balconies that wrap around the building. The evening also included information presented by Tampa's Pyramid school, offering guests an opportunity to support art, dance, and music for disabled adults.
About Towers of Channelside
Towers of Channelside is the fastest selling condo community in the Tampa Bay area, featuring two 28-story towers, comprised of 257 luxury residential condominium homes. Less than 10 homes remain to be sold.
Located at 1211 E. Cumberland Ave. in Tampa, homes are within easy walking distance of the Florida Aquarium, St. Pete Times Forum, Tampa Bay History Center, Port Authority cruise terminal, Gallagher's New York Steak House, Splitsville, Powerhouse Gym, Thai Thani, Stumps Supper Club, Tina Tapas, and other Channelside attractions, restaurants, and shops.
Appointments are suggested to view our models, including a penthouse model, during sales center hours: Monday through Saturday, 10 a.m. to 5 p.m., and Sunday 1 p.m. to 5 p.m.
The JMC Realty team at Towers of Channelside includes Steve McAuliffe, president, Cheryl McCormick Brown, sales and marketing director, and Stacey Borsik, sales associate.
For more information about Towers of Channelside, please visit our web site at http://www.towerschannelside.com, call 813-574-7252, follow us on facebook at http://www.facebook.com/towerschannelside or get Twitter feed at http://twitter.com/ChannelsideHome.
###