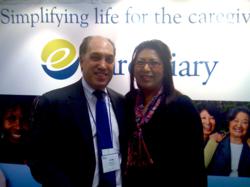 We are very excited to bring together local expertise on eldercare. Families will benefit greatly, no matter what stage of care they are dealing with.
Great Neck, NY (Vocus/PRWEB) April 12, 2011
Mayor Jean Celender and The Village of Great Neck Plaza will be hosting a free Family Caregiver Workshop on Sunday, April 17 from 2-4 pm at the Great Neck Plaza Village Hall located at 2 Gussack Plaza, Great Neck, NY, 11021.
This workshop is designed to help the growing number of family caregivers struggling with the issues that confront them as they care for an aging parent or loved one.
A panel of experts will address topics such as what are the necessary legal documents to have in place, care coordination, Medicare/ Medicaid questions, safety, self care, relaxation techniques, and support groups. There will be an opportunity for audience questions at the conclusion of each panel.
Panelists to date are: Nina Dobris - a Geriatric Care Manager with Circle Care of the North Shore-LIJ Health System; Ronald Fatoullah – a New York Elder Law Attorney specializing in Medicaid and asset protection; Craig Jennings - Program Creator of Caring for the Caregiver offering caregiver support groups every 2 weeks in locations throughout Long Island; John Mills - Founder of eCareDiary.com and long term care healthcare expert.
The afternoon's program is coordinated by John Mills and Susan Baida, Co-Founders of eCareDiary.com, a leading website for caregivers focusing on the daily management of eldercare. The site offers free tools, resources, and social media community to help caregivers navigate a process often found confusing, difficult and stressful. The site's goal is to empower caregivers to help them become better managers of their loved one's care.
For additional information please call the Great Neck Plaza Village Hall at: 516-482-4500 or email: pwhitehorn@ecarediary.com.
About eCareDiary.com
eCareDiary.com brings together online tools, resources and the support of an online community to assist those who are caring for elderly patients. The site was founded by husband and wife, John Mills and Susan Baida who, despite decades of experience in the healthcare sector, found the task of coordinating care for their parents care uniquely and unnecessarily challenging. eCareDiary has been featured in The New York Times, The Wall Street Journal and was named a Silver Award Winner by The 2010 New Product & Technology Awards, an awards program that recognizes the world's best technologies, products and services for older adults and their families. eCareDiary is featured in AARP.org as one of the "11 Technologies You'll Want Now" and winner of Today's Caregiver Magazine's 2010 Caregiver Friendly Award.
# # #