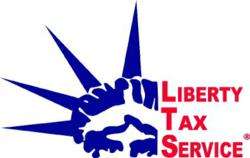 There simply isn't a more deserving person to receive this award
Virginia Beach, VA (PRWEB) April 11, 2011
Liberty Tax Service is proud to announce the fifth recipient of the "My Refund Story/Double My Refund Contest," a national promotion running January 2011 through April 18, 2011. The national search was launched to find six of the most compelling and deserving stories from taxpayers receiving refunds this year.
David Gann, Ringgold, GA was one of the six entrants selected from more than 650 entries. April 12, 2011, Miss Lady Liberty 2011, Brittney Wojtaszek will fly to Ringgold, GA, to officiate and present the doubled Federal refund check. A professional film crew will accompany Miss Lady Liberty to record the story for release on the My Refund Story/Double My Refund website.
Gann, a Ringgold Special Education Teacher and Football coach, his wife and five children are getting by on limited incomes and their infectious zest for life. Also, a state-appointed guardian for two severely developmentally disabled adults, Gann's family life revolves around the football season, golf season and everyone's love of sports. Gann serves as an inspirational coach sharing much more than just his love for the sport with his players and students.
"During these challenging economic times, we are very excited to help find the most deserving recipients get some extra money at tax time," added John Hewitt, CEO and founder of Liberty Tax Service.
Gann filed his taxes at Liberty Tax Service at 6981 Nashville Street, Ringgold, GA. It was there former Ringgold student and football player told his high school coach about the online contest. "There simply isn't a more deserving person to receive this award," said Alex Davis, Liberty Tax Franchisee. Davis was coached by Gann while in high school.
Entrants go to http://www.myrefundstory.com to type in their story online. Entrants may also capture their testimonials on video, and upload them to the site. Contest details are posted on the website. Gann's story will be posted at http://www.myrefundstory.com/winners. Gann is available to interview. B-roll and interview segments will be available. Contact Martha O'Gorman at (800)790-3863 ext. 8022.
About Miss Liberty Tax 2011
After a nation-wide search for "America's Next Lady Liberty," Liberty Tax Service announced in the fall that Brittney Wojtaszek of Las Vegas is representing the company as Miss Liberty Tax 2011. Liberty Tax Service "wavers" are famous reminders of tax filing, and recognized for their exuberance as unconventional brand builders. Miss Liberty Tax 2011 is an official corporate representative for a one-year assignment as the company's top waver and good will ambassador.
About Liberty Tax Service
Liberty Tax Service is the fastest-growing retail tax preparation company in the industry's history. Founded in 1997 by CEO John T. Hewitt, a pioneer in the tax industry, Hewitt stands as the most experienced CEO in the tax preparation business, having also founded Jackson Hewitt Tax Service.
Liberty Tax Service provides computerized income tax preparation, electronic filing, refund loans, and online filing through eSmart Tax. Each office offers customers audit assistance, a money back guarantee, and free tax return checking.
CONTACT: Martha O'Gorman
Chief Marketing Officer
(800) 790-3863
martha(at)libtax(dot)com
###