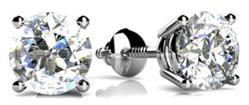 San Diego, CA (Vocus/PRWEB) April 12, 2011
Online jewelry retailer Anjolee released an innovative way to find, select and purchase a pair of diamond stud earrings on their website. The new selection tool allows you to browse the classic stud earrings style on one page, and instantly see how modifications in metal type, diamond quality and carat size ultimately affect the price. It's simple to use and is found at: http://www.anjolee.com/diamond-stud-earrings.aspx.
To use the tool, start by choosing a style from four popular stud earring styles including the 'Classic Four Prong Diamond Stud Earrings', 'Classic Three Prong Diamond Stud Earrings', "Classic Princess Cut Diamond Stud Earrings", and "Classic Round Bezel Diamond Stud Earrings'. Once a design is selected, a 360 rotation video will spin around and reveal the stud earrings from every direction. If you want to focus in on a specific are of the stud earrings, just click on the video to pause it and examine the sides, front or back.
Within the same web page, step 2 offers the different metal types choices for your Diamond Studs. When you click on your selection for metal type (choices include 10k, 14k and 18k yellow or white gold or platinum), the earrings will display in that metal type.
Below, one easy chart displays all of the prices on one screen. Since Anjolee offers 6 different diamond combination's and 8 different Diamond stud earring sizes, you can see how each affects the total price. Simply click on the corresponding price based on the selection of carat size and diamond color/clarity to finalize your order.
Anjolee's new selection tool enhances the user experience, by showing all of the product information and pricing at a glance, in a single page. This new format promotes easier website navigation with less time searching around for products. In addition the classic styles, Anjolee offers many designer stud earrings, diamond drop earrings and diamond hoop earrings.
# # #