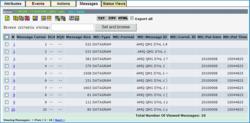 Las Vegas, NV, IBM Impact Booth #z2 (PRWEB) April 12, 2011
Nastel Technologies, a premier global provider of business transaction performance™ solutions for mission-critical applications spanning the distributed, mainframe and cloud tiers, announced today it will be showcasing its AutoPilot application performance management suite at the IBM Impact 2011 Global Conference April 10-15 in Las Vegas. The company will also debut its new self-service application, AutoPilot On-Demand for IBM WebSphere MQ (AOW).
AutoPilot enables application owners to ensure the availability and performance of their business critical applications from the datacenter to the cloud. AutoPilot, with its built-in Complex Event Processing engine, accelerates business transaction performance™ - helping firms grow their business, increase the effectiveness of business processes and improve user experience by delivering end-to-end visibility and proactive problem prevention.
AOW is a web-based, highly secure, multi-user solution for viewing IBM WebSphere MQ resources and manipulating messages delivered in a virtual appliance. It enables safe, secure and controlled delegation of views, as required in both cloud and datacenter environments, to the various users requiring real-time visibility of their applications in an IBM WebSphere MQ environment. AOW delivers self-service to the application team and application owners; thus, greatly reducing the load on middleware administrators.
With AOW, multiple teams can now have on-demand access to critical information about their applications without having to involve the shared services center. The self-service model this solution offers reduces the load on the middleware team at the same time providing the necessary real-time data that other groups require in order to improve availability and performance of their business applications. In cloud environments, self-service is a requirement and AOW provides the secure delegation that enables value across both private and hybrid cloud environments.
Also at the show will be an educational session led by Nastel customer, Stephen Neal, Director of Global Middleware at Barclays Capital, titled "Enterprise Monitoring for Low Latency, High Volume Middleware." The session, to take place on April 12 in the Delfino Room #4001 of the Venetian Resort & Casino, will run from 10:15-11:30am and will highlight a program initiated by Barclays Capital aimed at finding a technology solution that could address the needs of its global middleware team for low-latency middleware monitoring. Neal will discuss their requirement for a single point of control for their multiple middleware solutions and how proactive, real-time monitoring helped Barclays meet their performance goals.
Nastel was cited as a vendor providing one of the best tools so far to build a closed-loop automation solution for application management by Forrester Research, Inc. in its December 2010 report titled "Evaluating Innovative I&O Solutions: Converged Application Performance Management - Nastel Uses Complex Event Processing To Manage Application Performance." Nastel was also positioned by Gartner, Inc. in the "Visionaries" quadrant of the "Magic Quadrant for Application Performance Monitoring" by Will Cappelli in February 2010.
"Many of the largest, most reputable banking and financial services agencies worldwide rely on AutoPilot to guarantee high application performance and improved end-user experience, resulting in greater productivity and lower costs overall," said Charley Rich, VP Product Management and Marketing for Nastel. "AutoPilot can utilize the events coming from existing monitoring tools along with the data it gathers in real-time about applications, middleware and transactions and even business KPIs in order to detect the patterns that predict upcoming problems. We refer to this as 360-degree situational awareness."
Rich continued, "IBM Impact will give technology and business leaders the opportunity to see AutoPilot in action, up close and personal with Nastel executives. We believe this provides an ideal forum to connect with IT thought leaders who can really tap the power of this technology within their organizations."
Nastel's exhibit at IBM Impact 2011 will be located in the zZone within the Solution Center at booth #z2 in the Venetian Resort & Casino. To learn more, visit the display or go to Nastel's website.
About Nastel AutoPilot
Nastel's business transaction management / application performance management solution, AutoPilot ensures the availability and performance of critical business applications via auto discovery, business transaction management, real-time monitoring, dynamic dashboards, complex event processing, application performance analysis, root cause analysis, proactive alerting and automated problem resolution.
Our customers in the line of business, development and IT utilize AutoPilot to guarantee high application performance, compliance, reduced user impact, fewer incidents, lower costs and greater productivity.
About Nastel
Nastel Technologies is a premier global provider of business transaction performance™ solutions for mission-critical applications. Nastel is a privately held company headquartered in New York, with offices in the U.S., the U.K., Germany and Mexico, and a network of partners throughout Europe, the Middle East, Latin America and Asia. For more information, visit Nastel's website at http://www.nastel.com.
###