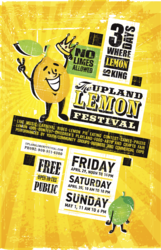 It's been a lot of fun to put our creativity behind events that bring the community together.
Upland, CA (Vocus/PRWEB) April 11, 2011
It's Lemon Festival time again in Upland. This year's citrus celebration is slated to be bigger and better than ever. The 14th Annual Lemon Festival will occur on the weekend of April 29th - May 1 in downtown Upland. Festival attendees can enjoy great food, carnival rides and games, lemon flavored items, entertainment and contests, as well as see artisans from all parts of California.
The City of Upland partnered with Echo-Factory, a local creative advertising agency, to promote the event.
"Our theme is, 'Three Days Where Lemon Is King — No Limes Allowed,'" explained Echo-Factory's co-owner and creative director, Dea Goldsmith. "The city has been great about giving us the creative freedom to make a brand for the festival that's as fun as the festival itself."
Several city agencies have been working with Echo-Factory since last year, tapping their creativity for the launch of the new Upland Farmer's Market last fall, the upcoming Tour de Foothills bicycle race and currently for the Lemon Festival.
"Echo-Factory is truly an extension of our staff. It feels good to be viewed as their partner, not just their customer," said Iris Patronite, Upland's Redevelopment Manager. "We value Echo-Factory's creativity, but their honesty and sincerity in their work always keeps us wanting more from them."
This year's Lemon Festival includes the return of the "Lemon Idol" singing contest, a competition that "has become the hit of the event as far as entertainment," said Carly Moultrie, owner of Moultrie Academy and organizer of the festival's entertainment. "We've got so much great talent and interest." All ages can participate in the American Idol-inspired competition. "The age range is five through adult. We've had people in their 80s audition for us," Moultrie said.
Inspired by another hit TV show, Upland's very own Biggest Loser Challenge will be concluding at the festival. For the contest, Upland residents have banded together to see who can lose the most unwanted weight. The winners in the Biggest Loser Team, Biggest Loser Male and Biggest Loser Female categories will be announced at the Festival. Last year's team winners lost a total of 72 pounds, a loss of 20%.
From Echo Factory's standpoint, working on local community events really hits home. "It's been a lot of fun to put our creativity behind events that bring the community together. I remember going with my family to street festivals and art fairs as a kid, and the City of Upland is bringing that same feeling to today's families," said Michael Schaffer, the agency's co-owner and executive director.
The 14th Annual Lemon Festival in Upland takes place Friday, April 29 from noon to 10 p.m., Saturday, April 30 from 10 a.m. to 10 p.m. and Sunday, May 1 from 11 a.m. to 6 p.m. The event's website is at http://uplandlemonfestival.com/
About Echo-Factory: Echo-Factory is a full-service creative and advertising agency. The agency develops websites, print, radio & online advertising as well as providing a wide range of other marketing and brand development services. Echo-Factory has approximately 20 active clients including Altura Credit Union, KAPCO Aerospace and lighting manufacturer Precision-Paragon [P2].
Website: http://echo-factory.com
###