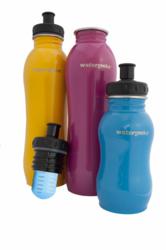 Los Angeles, Calif. (PRWEB) April 12, 2011
WaterGeeks™ announces the release of Pure Blue™, the first portable and affordable chromium-6 sport-bottle water filter. With the recent attention on the Environmental Working Group's study finding hexavalent chromium (chromium-6) wide spread in US tap water and impacting approximately 74 million people in 42 states, not much has been introduced in terms of affordable solutions. The U.S. Government's National Toxicology Program has even concluded that chromium-6 in drinking water shows "clear evidence of carcinogenic activity."
Hexavalent chromium (chromium-6) is the infamous subject of activist Erin Brockovich's battle against Pacific Gas and Electric Co. (PG&E) in Hinkley, CA, which resulted in a 1996 settlement of $333 million. Brockovich's fight was featured in a 2000 film, "Erin Brockovich," which starred Julia Roberts. Considered highly toxic, this chemical compound has been found to cause allergic dermatitis and stomach and gastrointestinal cancer in both animals and humans.
Expensive filtration systems such as Reverse Osmosis were the only recommended options for consumers concerned about chromium-6 in their drinking water - until now. To address this serious health issue, WaterGeeks™ has developed a portable and affordable chromium-6 water bottle filter. The new filters, made from a coconut-based carbon blend, have been created to effectively filter chromium-6, heavy metals, chlorine, taste, odor and many other organic compounds that may be present in chlorinated tap water.
WaterGeeks™ Stainless Steel Bottles come in a variety of nine different colors and are available in either a 24-ounce or 12-ounce size. Pure Blue™ Filters retail for just $9.99 each and ultimately yield over 10,000 ounces of filtered water*. The filters easily snap into the caps of each bottle, including those stainless steel filtered bottles previously purchased. To meet the recent and unexpected demand from retailers and consumers alike, WaterGeeks™is rushing its new Pure Blue™ filters to market. The bottles are now available for purchase through their website, http://www.thewatergeeks.com, for $19.99 (bottle plus filter). The new filters will soon be available chain-wide at Meijer stores as well as nationwide on both Target.com and NeimanMarcus.com.
For additional information, please contact:
Katie Moore
P3R Publicity
Katie(at)myp3r(dot)com
310.552.5318
About WaterGeeks
WaterGeeks was founded by its CEO Brent Meikle, Executive Producer of the 2008 award-winning documentary film, 'FLOW: FOR LOVE OF WATER' (http://www.flowthefilm.org), that was first to actually 'unearth' corroded water delivery pipes and expose similar concerns regarding drinking water on a global basis in 2008.
WaterGeeks is helping turn the global water crisis upside down by empowering consumers with compelling new water consumption choices that embrace both their active lifestyles and their ecological beliefs and offering numerous alternatives to traditional bottled water.
*Each filter last approximately four months with three bottle refills daily.
# # #