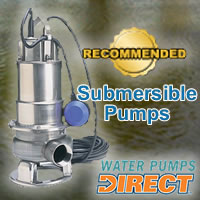 These electric pumps can be used for clearing out a basement, window wells, decorative fountains and many more applications. There are a few submersible trash pumps that can even handle pumping solids
Bolingbrook, Il (Vocus/PRWEB) April 11, 2011
Today, WaterPumpsDirect.com released its recommendations for the best submersible pumps.
"Submersible pumps are designed to move clear water from one place to another," said Jose Castellanos, resident product expert at Water Pumps Direct. "These electric pumps can be used for clearing out a basement, window wells, decorative fountains and many more applications. There are a few submersible trash pumps that can even handle pumping solids."
Most retailers are loyal to whatever is on their shelves. Water Pumps Direct, however, isn't your ordinary retailer. The online superstore specializes exclusively in water pumps and carries more than 125 models of water pumps from over a dozen leading national brands.
The online retailer combined recent sales history, customer reviews and personal insight to generate their final recommendations.
Once the dust settled, only three submersible pumps sold by WaterPumpsDirect.com were given its prestigious "Recommended" status.
Top Submersible Pumps
Good - Wayne RUP160 - 50 GPM (1 1/4") Oil-Free Submersible Thermoplastic Utility Pump
Better - Simer 2330 - Smart Geyser 30 GPM (3/4" or 1") Automatic Submersible Utility Pump
Best - Honda WSP50AA - 110 GPM (2") Submersible Trash Pump
In addition, the expert staff personally wrote online reviews for each submersible pump, explaining why the company recommended it.
By providing these recommendations and reviews, WaterPumpsDirect.com hopes to arm shoppers with enough ammunition to pick the perfect submersible pump for their needs.
Power Equipment Direct operates nine niche online superstores. In addition to WaterPumpsDirect.com, the Bolingbrook, IL-based company operates AirCompressorsDirect.com, ElectricGeneratorsDirect.com, PressureWashersDirect.com, SnowBlowersDirect.com, MowersDirect.com, SumpPumpsDirect.com, ChainSawsDirect.com and LogSplittersDirect.com
###