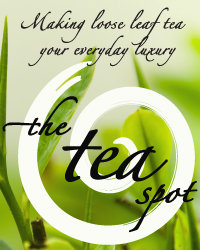 We will be more energy efficient while building culture and awareness, helping us to become an even more successful and mindful company. - Maria Uspenski
Boulder, CO (Vocus/PRWEB) April 12, 2011
The newest and greenest product by The Tea Spot, a philanthropic loose leaf tea company based in Boulder, will be available for purchase next month. This is a revolutionary, sustainable alternative to tea bags and promotes to-go loose leaf tea consumption while simplifying the process. It also allows for brewing coarse ground coffee on the go. The compostable tea infuser ensures lower carbon emissions than internationally manufactured products because it is produced domestically from U.S. corn. Tea and coffee shop owners as well as distributors are anticipating the product's availability.
The Tea Spot has already received attention for being a socially sustainable company because of their unique 10% for Cancer Wellness pledge, donating 10% of every sale in-kind to cancer and community wellness programs. In 2011 they deepened their sustainability commitment, this time focusing on environmental impact. In addition to manufacturing a new green product, The Tea Spot has committed to 10 For Change, a voluntary, environmental initiative to reduce a company's energy by at least 10 percent. Funded by Boulder's Climate Action Plan, 10 For Change has already ignited dramatic savings in cost and energy. Maria Uspenski, CEO and founder, expressed her enthusiasm to join 110 fellow Boulder businesses in the challenge. "We're looking forward to setting goals and implementing our own tailored plan. We will be more energy efficient while building culture and awareness, helping us to become an even more successful and mindful company." The company's culture has always included organic and sustainable values. As seen by the recycle bins and kitchen compost, work life has consistently included awareness of energy, waste and water consumption, making the adoption of 10 for Change a natural process.
To continue green efforts, The Tea Spot employees enrolled in the Eco Pass program. Issued by Regional Transportation District, or RTD, Eco Passes allow unlimited bus and light rail admission (with discounted airport bus fairs). Now, 40 percent of the company's daily travel will be done via public transit or walking. Once The Tea Spot employees have arrived in a sustainable fashion to the office, they work in an eclectic atmosphere of vintage, antique, and recycled furniture. Proudly, and in amazed reflection, Uspenski reported that 100 percent of their furnishings are reused from previous use.
Domestically producing a compostable product, committing to 10 For Change and utilizing RTD Eco Passes, The Tea Spot is determined to leave a lasting impression on the environment through example rather than carbon.
ABOUT THE TEA SPOT, INC The Tea Spot is a certified woman-owned and operated business producing proprietary products for loose-leaf tea. Patented tea serving and steeping products are marketed under the Steepware® trademark. They also offer a line of exclusive, organic, and Fair-Trade Certified™ leaf teas. Based in Boulder, Colorado, the company was founded in 2004 by Maria Uspenski, a cancer survivor drawn to the health benefits of leaf tea during her recovery. She set forth to modernize the loose-leaf tea experience, making it an everyday luxury. Her message is simple and powerful: tea in its freshest form renders incredible flavor, unmatched health benefits, and is eco-friendly. The company ensures that its products uphold clean, sustainable and fair manufacturing standards. The Tea Spot's model of social entrepreneurship incorporates a culture of giving as it grows: Ten percent of every sale made is donated in-kind to cancer and community wellness programs. More at theteaspot.com or media(at)theteaspot(dot)com.
###