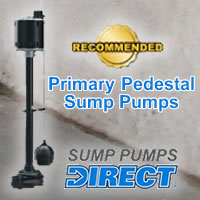 For certain applications, where a submersible pump won't fit, pedestal sump pumps are the best option for some of our customers
Bolingbrook, Il (Vocus/PRWEB) April 11, 2011
Today, SumpPumpsDirect.com released its recommendations for the best primary pedestal sump pumps.
"For certain applications, where a submersible pump won't fit, pedestal sump pumps are the best option for some of our customers," said Jim Owiecki, resident product expert at Sump Pumps Direct.
According to Owiecki, primary pedestal sump pumps have become harder to find because manufacturers produce less of them every year. However, Sump Pumps Direct continues to offer these pumps because there's still a need for them in certain applications.
Sump Pumps Direct specializes exclusively in sump pumps and carries more than 120 different models including battery backup systems and sewage pumps from many of the nation's leading brands.
The online retailer combined recent sales history, customer reviews and personal insight to generate their final recommendations.
Once the dust settled, only three primary pedestal sump pumps sold by SumpPumpsDirect.com were given their prestigious "Recommended" status.
Top Pedestal Pumps
Good - Little Giant SP33PED - 1/3 HP Thermoplastic Pedestal Pump w/ Vertical Float
Better - Wayne PTU50 - 1/2 HP Thermoplastic Pedestal Pump w/ Vertical Float Switch
Best - Wayne SPV800 - 1/2 HP Cast Iron Pedestal Pump w/ Vertical Float Switch
In addition, the expert staff personally wrote online reviews for each primary sump pump, explaining why the company recommended it.
By providing the recommendations and reviews, SumpPumpsDirect.com hopes to arm shoppers with enough ammunition to pick the perfect primary sump pump for their needs.
Power Equipment Direct operates nine niche online superstores. In addition to SumpPumpsDirect.com, the Bolingbrook, IL-based company operates AirCompressorsDirect.com, ElectricGeneratorsDirect.com, PressureWashersDirect.com, SnowBlowersDirect.com, MowersDirect.com, WaterPumpsDirect.com, ChainSawsDirect.com and LogSplittersDirect.com