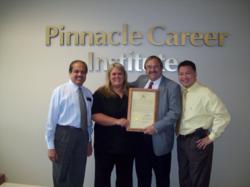 Kansas City, MO (PRWEB) April 11, 2011
Pinnacle Career Institute – North Kansas City* is proud to announce Tracy Baldomino as the recent award recipient for Best Allied Health Instructor of 2010 from both the Missouri and Kansas Association of Private Career Colleges and Schools. For more than two years Baldomino has served as Medical Assistant Instructor and Externship Coordinator for Pinnacle Career Institute – North Kansas City.
Tracy Baldomino's recent award was also recognized with an official Resolution from the Missouri House of Representatives, which was presented to her last fall by Rep. Jerry Nolte. Nolte visited the Pinnacle Career Institute – North Kansas City campus and personally presented the award to Baldomino with her students and fellow teachers in attendance.
"What an honor to both Ms. Baldomino and our campus," said Sam Varghese, executive director of Pinnacle Career Institute – North Kansas City.
MAPCCS and KAPCCS are professional organizations dedicated to providing quality education for students to become successful employees in business and industry. The associations also strive to foster goodwill between industry and proprietary education by instilling a feeling of pride, integrity and high ethical standards in the performance of job duties and by also encouraging students to have positive attitudes toward personal, business and social interactions.
Our colleges and schools provide students with environments that encourage community and business involvement in the educational and solution-seeking processes, and provide students opportunities for personal growth and leadership development.
For more information about Pinnacle Career Institute, visit http://www.PCITraining.edu.
*A branch campus of Pinnacle Career Institute
About Pinnacle Career Institute
For more than 50 years, Pinnacle Career Institute has provided quality career education in competitive fields such as Alternative Energy, Business, Health & Fitness, Medical, and Trades & Technical. Along with Pinnacle Career Institute Online Education, Pinnacle Career Institute has two campuses in the Kansas City, MO, area and one campus in Lawrence, KS. Pinnacle Career Institute offers flexible scheduling options and quality skill education.
###