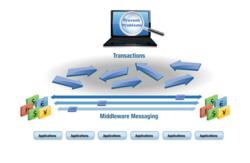 Melville, NY (PRWEB) April 12, 2011
Nastel Technologies, a premier global provider of business transaction performance™ solutions for mission-critical applications spanning the distributed, mainframe and cloud tiers, has utilized the momentum of its past year to launch an immensely successful Q1 2011. Driven by 2010's staff growth (37%) and revenue growth (25%), as well as a number of customer wins, new partnerships, new products and nods from industry leaders, Nastel continues to make waves moving further into 2011.
"We've gained outstanding momentum over the past year and continue to build capacity in order to meet growing market demands," said Charley Rich, VP Product Management and Marketing at Nastel. "Our success from 2010 is validation of the need for an application performance monitoring solution that lets application owners ensure the availability and performance of their business critical applications from the datacenter to the cloud. AutoPilot has proven to exceed the demands of Nastel customers in delivering a robust solution that provides end-to-end visibility, proactive problem prevention and improved staff efficiency."
Scalability Meets Enterprise Demand
Marked by 25% revenue growth in 2010, Nastel announced a series of customer wins, including three of the world's largest banks. Through its partner BizPro, Nastel also won a contract with SKY Mexico (Innova), which provides digital Ku-band direct-to-home or DTH broadcast satellite pay television services in Mexico under the name 'Sky.' Sky selected AutoPilot to monitor its Direct-to-Home (DTH) satellite television service. The solution has helped to support Sky's growth plans in delivering triple and quadruple play offerings to its customers, helping them to grow their business, stay ahead of competitors in quality of service and in reducing order fallout.
Nastel also secured a number of high profile partnerships over the past year including those with Kratos Networks, a leading provider of network monitoring and management solutions, BSEEN International, a global operation focused on market entry and expansion for selected leading edge technologies, Coradiant Inc., A provider of solutions used to manage, optimize and troubleshoot Web applications, and Solace Systems, a provider of messaging middleware appliances. Each of these alliances has helped to further deliver the world-class solutions Nastel's Global 2000-sized customers expect and to most effectively reach the broadest global community.
Innovation as a Catalyst for Growth
A series of new products also helped to keep Nastel in the spotlight throughout 2010. AutoPilot for Cloud, the first solution designed to prevent cloud-based application availability and performance problems in hybrid, private and infrastructure-as-a-service (IaaS) environments, was introduced in December. The solution provides automated application and transaction discovery, transaction stitching and self-adjusting determination of business normal and problem prevention, all of which are needed to keep pace with the cloud's elastic, ever-changing configuration. Nastel also launched a virtual appliance version of its AutoPilot® M6 suite. With this, AutoPilot M6, TransactionWorks™ and AutoPilot for Middleware became available preinstalled in a virtual software appliance, promoting rapid deployment, quick provisioning and high-availability for mission critical environments.
To further solidify its position as a key player in the industry, Nastel received a number of nods from industry leaders. The company was cited as a vendor providing one of the best tools so far to build a closed-loop automation solution for application management by Forrester Research, Inc. in its December 2010 report titled "Evaluating Innovative I&O Solutions: Converged Application Performance Management - Nastel Uses Complex Event Processing To Manage Application Performance." Additionally, Forrester named Nastel a "Hot Banking Tech Company To Watch In 2010." Nastel was positioned by Gartner, Inc. in the "Visionaries" quadrant of the "Magic Quadrant for Application Performance Monitoring" by Will Cappelli in February 2010. Nastel also received a nod in the June Clabby Analytics report in which it was noted, "…what we find is that Nastel offers a complete, broad and deep APM environment that can be effectively used to track and monitor applications and transaction flows within a cloud."
About Nastel AutoPilot
Nastel's business transaction management / application performance management solution, AutoPilot ensures the availability and performance of critical business applications via auto discovery, business transaction management, real-time monitoring, dynamic dashboards, complex event processing, application performance analysis, root cause analysis, proactive alerting and automated problem resolution.
Our customers in the line of business, development and IT utilize AutoPilot to guarantee high application performance, compliance, reduced user impact, fewer incidents, lower costs and greater productivity.
About Nastel
Nastel Technologies is a premier global provider of business transaction performance™ solutions for mission-critical applications. Nastel is a privately held company headquartered in New York, with offices in the U.S., the U.K., Germany and Mexico, and a network of partners throughout Europe, the Middle East, Latin America and Asia. For more information, visit Nastel's website at http://www.nastel.com.
# # #