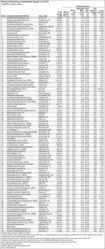 (Vocus/PRWEB) April 12, 2011
El Paso, Texas-based Weststar Bank Holding Co. Inc. secured the top slot in SNL's ranking of best-performing community banks with between $500 million and $5 billion in assets. The company was able to increase interest income while decreasing interest expense over the course of 2010. Growth in its loan portfolio was almost entirely funded by its core deposits, which also grew and were a cheaper form of funding as compared to other borrowings.
These dynamics led Weststar to win strong marks in the profitability metrics used for the analysis. While Owensboro, Ky.-based Independence Bancshares Inc. did not significantly outperform the top 100 in any one metric, it scored well enough across the board to lock in the No. 2 slot. Woburn, Mass.-based Northern Bancorp Inc. scooted into third by keeping net charge-offs close to zero.
RANKING CRITERIA:
To compile the rankings, SNL defined community banks as institutions between $500 million and $5 billion in assets and 60 or fewer offices. SNL ranked companies at the bank holding company level if consolidated data was reported. Otherwise, commercial bank subsidiary data was used. Additionally, banks with a majority of revenue derived from nontraditional banking activities were not included. Based on the above criteria, 764 companies were eligible for the rankings. Companies meeting the criteria received scores based on their percentile rank on each of the following six metrics: return on average tangible assets before tax, net charge-offs as a percent of average loans, adjusted nonperforming loans as a percent of total loans, operating expenses as a percent of operating revenue, net interest margin and loan growth. All metrics were weighted equally.
###