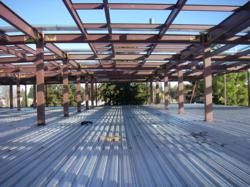 "Structural robustness combined with the brace and shear wall free interior makes ConXL an ideal solution for data centers," states Robert J. Simmons, CEO of ConXtech.
Hayward, CA (Vocus/PRWEB) April 12, 2011
ConXtech® Space Frame Systems, a leading provider of innovative, robust structural steel solutions, today announced the completion of ConXL steel framing in nine days at CoreSite Realty Corporation's (NYSE: COR) 101,000 square-foot Santa Clara data center. ConXtech began erecting on January 27th and topped out steel on the project on February 9th. The ConXL product addressed CoreSite's need for a robust, long-span steel data center frame delivered cost-effectively and with increased speed to market.
ConXtech's ConXL product is a long-span steel framing solution developed for commercial real estate structures such as hospitals, data centers, hotels, and industrial structures for the oil and gas industry. Benefits of ConXL include decreased overall tonnage, increased speed to market and safety, inherent seismic, blast and progressive collapse resistance, and overall cost-effectiveness.
"Structural robustness combined with the brace and shear wall free interior makes ConXL an ideal solution for data centers," states Robert J. Simmons, CEO of ConXtech. "The enablement of future interior space customization is just one of the many ConXL benefits realized by leading data center providers such as CoreSite, who pride themselves on delivering flexible solutions to meet the custom needs of its enterprise clients."
CoreSite's Santa Clara data center at 2972 Stender Way is being built to LEED Gold standards and will feature energy-efficiency initiatives such as 97%-efficient UPS units, variable-frequency driven (VFD) cooling units, and air-side economization. The data center project is a part of CoreSite's planned 496,000 square foot Santa Clara data center campus at Coronado Drive and Stender Way.
"CoreSite selected ConXtech as the steel provider for its Santa Clara data center project based on the structural robustness of the company's ConXL steel product as well as the projected budget maximization and speed to market as was determined during the vendor selection process," commented Billie Haggard, CoreSite's senior vice president of data centers. "We are pleased with ConXtech's performance and the strength of the steel frame they delivered."
For more information on CoreSite's Santa Clara data center project, including a live construction webcam, please visit http://www.CoreSite.com/Santa-Clara-Data-Center-Campus.php.
About ConXtech Inc.
ConXtech Inc. is a building technology company based in Hayward, CA. The company has developed ConX®, a revolutionary structural steel building system which enables rapid delivery of robust, cost efficient and sustainable structures. The company sells a standard set of manufactured "lower and locking™" connectors and building components enabling the mass-customization of a precise structural building frame or "chassis" to which other factory manufactured building modules can be added. When assembled into multi-bay, multi-story structures, the patented connection technology delivers a brace-free grid of special moment frames ("SMF") ideal for commercial, healthcare, military, high-density residential, data center, educational, and industrial structures. The ConX System reduces time and overall project costs when compared to conventional structures and brings a systemic change to the building process, enabling owners and developers to predictably build "Faster, Better, Safer and Greener™". ConX SMF connections meet special detailing requirements for the most demanding seismic loading as well as the current U.S. Department of Defense anti-terrorism standards for blast and progressive collapse resistance. The ConXL™ SMF connection is approved by the Office of Statewide Health Planning and Development ("OSHPD") for use in California hospital facilities and has been prequalified by the American Institute of Steel Construction ("AISC") and published in AISC 358-10 Prequalified Connections for Special and Intermediate Steel Moment Frames for Seismic Applications for use by structural engineers worldwide. ConXtech licenses its fabrication technologies, methods and processes to a growing network of certified fabricators and erectors. For more information about ConXtech, visit http://www.ConXtech.com.
About CoreSite
CoreSite Realty Corporation (NYSE: COR) delivers powerful, network-rich data centers that optimize, secure and interconnect the mission-critical IT assets of the world's top organizations. 600+ customers, including Global 1000 enterprises, cloud providers, financial firms, and Government agencies, choose CoreSite for reliability, service and expertise in delivering customized, flexible data center solutions. CoreSite offers private data centers and suites, cage-to-cabinet colocation, and interconnection services, such as Any2, CoreSite's Internet exchange. The company's portfolio comprises more than two million square feet, including space held for redevelopment and development, and provides access to more than 200 network service providers via 11 data centers in seven key U.S. economic centers. Obtain more information at http://www.CoreSite.com.
CoreSite Investor Relations Contact
+1 303.222.7276
InvestorRelations(at)CoreSite(dot)com
###