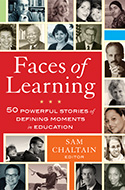 The goal is to inspire people to both expect and demand high quality learning environments in school and throughout their lives.
Washington, DC (Vocus/PRWEB) April 12, 2011
Envisioning a movement of adults and young people in search of better places to work and learn, a coalition of individuals and organizations is highlighting powerful learning experiences to make a larger statement about how and when real learning occurs – and shift the polarizing language of modern education reform to a more hopeful, solution-oriented conversation.
The campaign, called Faces of Learning, aspires to help people understand we are all effective learners, with differing strength and challenges. Kim Carter, executive director of the Q.E.D. Foundation, a non-profit organization that is a member of the coalition, explains: "We want to elevate four essential questions that are, alarmingly, almost completely absent from the current national conversation about school improvement: How do people learn? How do I learn? What does the ideal learning environment look like? And how can we create more of them?"
The Faces of Learning campaign takes its name from its new book that gathers the personal learning stories of 50 Americans – from students to social workers to the Secretary of Education. According to the book's editor Sam Chaltain, its goal "is to inspire people to both expect and demand high quality learning environments in school and throughout their lives," said Chaltain. "But before that can happen, we all need to work together to see more clearly what powerful learning actually looks like -- and requires."
Based on the belief that each community is best equipped to provide its own answers for those four essential questions about powerful learning, the campaign is engaging people in a variety of ways:

In person, via a national "engagement tour" in which a number of American cities will host public events in 2011 that provide an opportunity for people to hear stories, share their own insights, and participate in experiential public conversations that are used to seed relevant ongoing local work.
On the radio, via a weekly story series (http://www.wamu.org/news/lifelong_learning/), during which new learning stories are featured each week, and listeners are encouraged to submit their own for consideration.
In print, via different ongoing story series in local and national newspapers.
Online (facesoflearning.net), where visitors can receive information about events, contribute stories, access a free tool to assess their individual strengths and weaknesses as learners, explore what research is teaching us about how we learn, and find resources that help improve the overall learning conditions for children.
"To turn the energy and interest of 2010 into measurable activity and engagement in 2011 and beyond," said Carter, "the core stakeholders of our nation's school system must be given an opportunity to contribute to informed, collaborative, relevant, and community-based school improvement strategies. Equally important, these conversations must be solution-oriented, bipartisan in nature, and hopeful in spirit – and they must unfold with the active participation and leadership of young people."
Faces of Learning is a national grassroots engagement initiative that aims to help everyone see more clearly what powerful learning actually looks like and requires. We are a decentralized, collaborative, story-driven, nonpartisan, solution-oriented network of individuals and organizations.
###